Grey Goose and Ketel One are among the most popular vodkas people are willing to spend on, especially during special celebrations. But which one of the two is better?
People have varying opinions about these expensive vodkas. Some would say Ketel One is better, less expensive but rates higher when it comes to taste. Others would say that Grey Goose doesn't taste like a premium brand, but some would argue it's worth its price.
Let's find out by learning more about these two vodkas in detail.
Ketel One vs. Grey Goose – Understanding the Differences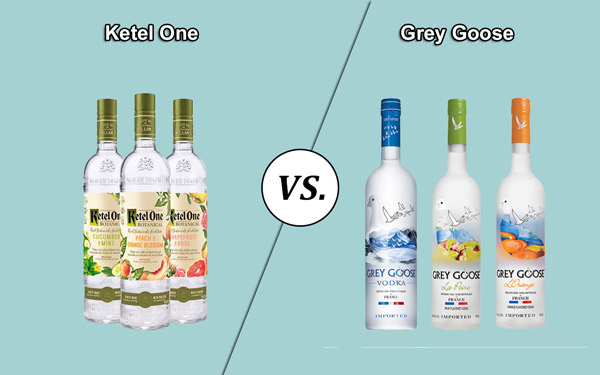 Here's a look at the factors you can weigh to find out which brand is better and in what department:
Is Ketel One Vodka as Good as Grey Goose?
Both vodkas come in a variety of flavors enjoyed by many. However, more drinkers prefer Ketel One for the price and how flexible it can be.
Grey Goose offers more flavors, also an excellent choice but priced higher than Ketel One.
Both are top-shelf vodkas, along with the other popular brands, such as Tito's and Absolut.

Ketel One vs. Grey Goose Price
Both vodkas are imported from Europe. Grey Goose offers its 750 ml bottle for $35 to $40, while the same bottle of Ketel One sells for $20 to $25.
Ketel One vs. Grey Goose: Taste Like
You will experience the smooth texture of Ketel One from your first sip up to the last drop. It has light citrus and lemon notes with a minty aftertaste.
Grey Goose has a creamy and smooth texture. It lacks the tinge of the sweetness of Ketel One, but instead, it has bitter and little biting notes.

Ketel One vs Grey Goose: Alcohol Content
There is not much difference between the two brands when it comes to alcohol content. The unflavored products from both brands have 40 percent alcohol by volume (ABV).
With the flavored options, Ketel One's Citroen and Oranje has 40 percent ABV, Ketel One Botanical has 30 percent ABV, and Grey Goose's Essences has 30 percent ABV.
What are They Made of and From?
Ketel One Vodka is manufactured in Schiedam, Netherlands, by Nolet Distillery. It is distilled using copper pot stills from 100 percent wheat. Once distilled, the liquid is filtered before letting it rest in tile-lined tanks.
On the other hand, Grey Goose Vodka is made from the spring water of Gensac-La-Pallue, France, and soft winter wheat from Picardy, France.
Ketel One vs Grey Goose: Flavors
In 2018, Ketel One introduced its Botanical Line, comprised of Peach & Orange Blossom, Cucumber & Mint, and Grapefruit & Rose. It also offers Citroen and Oranje varieties. All these favored drinks taste good when chilled or served straight.
Grey Goose has launched more flavors since 2001. The fruity varieties include La Vanille, L'Orange, Cherry Noir, Le Melon, Le Citron, and La Poire.
Ketel One vs Grey Goose: Quick Comparison Chart
| | | |
| --- | --- | --- |
| | | |
| | | |
| | Peach & Orange Blossom, Cucumber & Mint, and Grapefruit & Rose, Citroen and Oranje | La Vanille, L'Orange, Cherry Noir, Le Melon, Le Citron, and La Poire |
| | Smooth with minty aftertaste and light citrus notes in aroma | Creamy and smooth taste with biting and bitter notes |
| | Combination of copper pot stills and columns | |
| | | |
| | Can be paired with anything, especially lime or lemon juice | Paired with Vodka Soda, Scarlet Punch, or Espresso Martini |
Ketel One vs Grey Goose: Which is Better?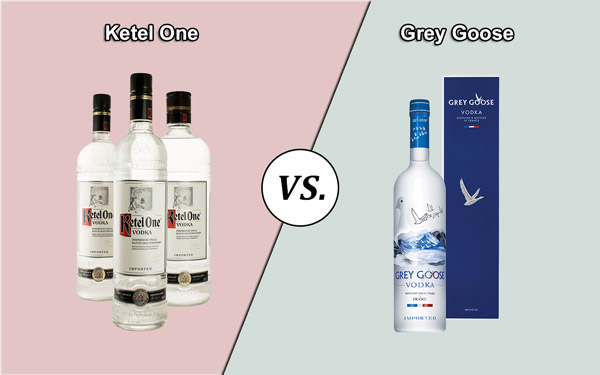 Ketel One is the clear winner for the lower price but high-end quality. The way it is processed is similar to making a gin, and its rich history impacts how luxurious the taste of the vodka is.
However, Grey Goose is also good but is not recommended for those who aren't fond of a bitter aftertaste in vodkas.
Final Verdict
More people enjoy Ketel One for the better overall taste and flavor. It is so smooth that it seems flavorless with a minty aftertaste. Grey Goose has more flavors with a hint of a bitter taste. Both vodkas pair well with ice and lemon juice.
It is still up to you to decide which one suits you best. However, if you listen to people's recommendations, Ketel One gets more thumbs up than Grey Goose.