Introduction to Tito's Vodka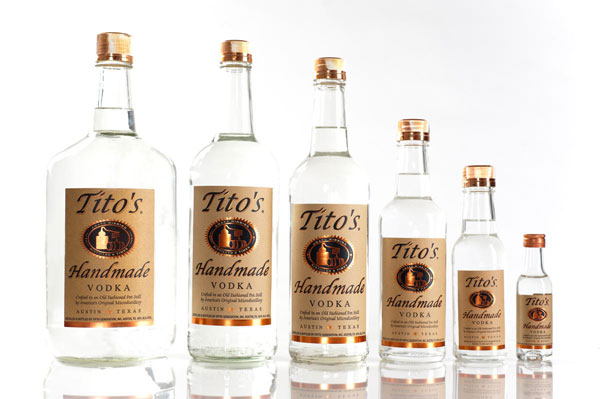 Old-Fashioned yet classic. Tito's Handmade Vodka may have been in the business for more than 20 years, but its signature taste never gets old. It only ages fine through time.
This vodka brand was founded in 1997 by Tito Beveridge, owner of the Fifth Generation. What sets this brand apart is that instead of wheat or potatoes, the vodka is made from yellow corn. This earned Tito's Vodka a gluten-free certification from the Gluten Intolerance Group.
Yellow corn is a rich source of antioxidant carotenoids, such as zeaxanthin and lutein. It contains fair amounts of vitamins and minerals and is also beneficial to eye health.
The Man Who Started It All
Who would have thought that the genius behind Tito's Vodka was once known as the mortgage guy?
The name is Bert Butler "Tito" Beveridge II. He was born and raised in San Antonio, Texas, graduated with degrees in geophysics and geology, and had several businesses before finding a goldmine in what he used to consider as a hobby. While in the mortgage business, he started concocting habanero-flavored vodka and gave them as gifts to friends. At the time, people started calling him the vodka guy.
He never knew the moniker would become a reality until the mortgage rates soared a couple of points. In the mid-90s, he began researching the tools and ingredients needed to come up with something that would be embraced by vodka lovers.
It wasn't an easy process. He had to experiment a lot, which meant several failures before hitting the jackpot. He borrowed money from 19 credit cards to start the company in 1997. He had to sleep in couches and floors as the business began to take its form.
It was in 2001 when Tito's Vodka hit it big after emerging as a winner among 72 vodkas from around the globe in the 2001 World Spirits Competition. Tito's sold an estimated 63 million vodka bottles in 2017, which boosts to 88 million the following year. It is now included in the list of the fastest-growing spirits brands in the US. According to Forbes, the owner of Tito's Vodka is acknowledged as one of America's richest people with a net worth of $4.6 billion.
Tito's as a Top Shelf Vodka
Vodka is primarily comprised of ethanol and water. There are also certain makers that include traces of flavorings. The traditional way of drinking vodka is straight or neat. It is not mixed with mixers, such as ice and water. It is also used to come up with concoctions to make the drinking experience more pleasurable.
Top shelf means of high quality, and that is exactly what Tito has to offer. Tito's Vodka was originally craft-distilled at the first legal distillery in Texas using copper pot stills. What used to be a micro-distillery expanded in 2001 after surpassing the Distilled Spirits Council of the United States' 40,000 cases industry standard for a craft distillery.
Tito's Vodka is now included in many sites and experts' lists of high-quality vodka brands and considered a top-shelf. A lot of people enjoy Tito's for the following reasons:
It has a tinge of sweetness, but it doesn't overpower its top-notch finish.
It is one of the few vodkas that mixes well with other flavors.
It is gluten-free, and it doesn't only taste smooth but also luscious and rich.
Is Tito's Vodka Cheap or Expensive?
It's in the middle. Tito's is not cheap, neither it is expensive. The brand's prices compete fairly with the known vodka brands. It is the product's quality that will make you realize that you've got a good deal.
Tito's Vodka Prices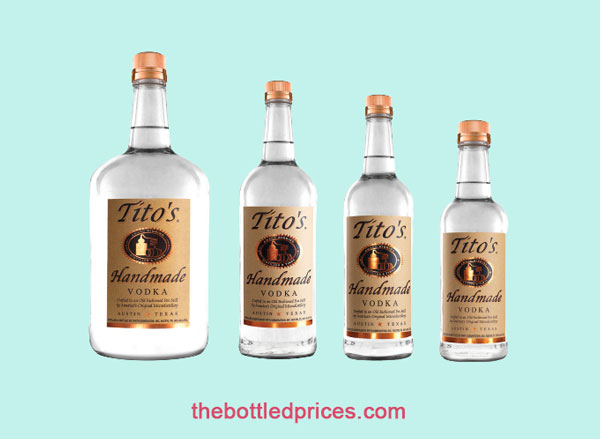 Vodkas are categorized into three levels – budget, standard, and premium brands. The categories are generally based on the prices. Premium brands are usually priced $30 and above, standard types from $20 to $30, and budget vodkas at $20 and below. The prices of these vodkas will still vary depending on the store. Vodka prices are typically determined on the ingredients used, the process of production, and flavor.
Spending around $20 for the quality that you can get from Tito's is a steal. It can match the taste of the other more expensive and known vodka brands.
Here's a pricelist of Tito's Vodka:
Prices Compared to Other Brands
How does the Tito's Vodka price fare compared with the other leading names in the vodka market? Tito's Vodka is considered a standard in the industry. It is not cheap, nor is it high-end. Its rapid climb to the top list of the most popular vodka brands produced in America is an indication that it's a kind of beverage that many vodka lovers do enjoy.
Absolut is one of the popular brands with prices similar to Tito's. This Swedish vodka is usually priced at $35 for 1.75ml and $16 for 750ml.
Smirnoff is another popular vodka brand, but it's ranked as a budget, which means that it is priced cheaper than Tito's.
The 375ml bottle of Smirnoff costs $7, while Tito's 375ml bottle is priced $15. With only a few dollar difference, you can already enjoy the smooth and balanced taste of Tito's vodka.
Here's a look at the Tito's Vodka prices as compared to the other brands of similar rank:
Tito's Vodka Calories List
Common Tito's Vodka Recipes: What to Mix With Tito's Vodka
You'll enjoy drinking Tito's Vodka straight, but it will also taste good when mixed with other ingredients. Here are some recipe suggestions on how you can infuse this drink with other ingredients to come up with concoctions that will give each serving a fresh and unique taste:
Bloody Mary
Serves: 1
Preparation Time: 10 minutes
Instructions:
Put ice in the shaker. Add sweet sherry, lemon juice, Tito's Vodka, and tomato juice. Drop the spices, hot sauce, and Worcestershire sauce.


Shake well.

Put ice in a tall glass. Strain the beverage. Top with your preferred garnishing (cherry tomato, lemon wedge, and/or celery stick) before serving.
Appletini
Serves: 1
Preparation Time: 5 minutes
Instructions:
Fill the shaker with ice. Add all the ingredients except for the apple slice.

Shake well.

Strain beverage mixture into a cocktail glass.

Place an apple slice to garnish before serving.
Screwdriver
Serves: 1
Preparation Time: 10 minutes
Instructions:
Put ice in a beverage glass.

Add Tito's Vodka and the fruit juices.


Give it a gentle stir before place the orange wedge and a few dashes of Angostura bitters.
Moscow Mule
Serves: 1
Preparation Time: 5 minutes
Instructions:
Pour Tito's Vodka to a tumbler or metal mug.

Add ice until the mug's 3/4 full and fill the rest with ginger beer.

Stir until mixed.

Add a sprig of mint, lime slice, and ginger bitters before serving.
Caipirovska
Serves: 1
Preparation Time: 5 minutes
Instructions:
Place sugar and chunked lime at the bottom of a tumbler.

Use a muddler to crush them well.

Add crushed ice and vodka.

Mix well and serve at once.
Final Thoughts
Many people who have tasted Tito's Vodka have good things to say about the brand. Why not give it a try and use the recipes above to give your drinks a different taste every once in a while? While drinking can be fun and, at times, help you relieve stress, always be mindful to drink vodka in moderation. It is more enjoyable to have these drinks without suffering from a hangover after a night of fun.