Quick Summary:
Fireball Whiskey is one of the more popular brands of cinnamon whiskey in the market. Since the 1980s, its distinctive cinnamon flavor has been gracing mixes while still being a potent shot on its own.
Fireball Whiskey's prices put it within range of most of its competition. While these alternatives give different shades of flavor and kick to the table, Fireball Whiskey still manages to establish itself well within this niche.
Fireball Whiskey can be used to prepare various mixes. These include classics such as the mule and man-mosa, but also some novel mixes that will challenge the taste buds.
Introduction to Fireball Whisky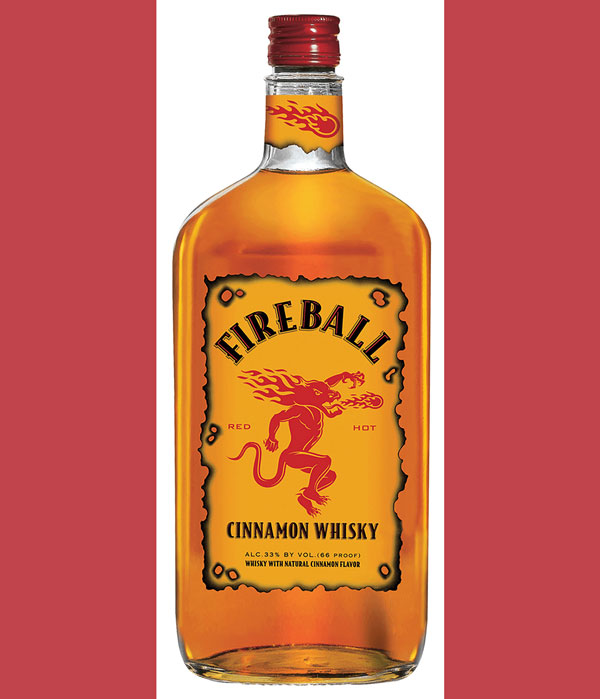 Who makes Fireball Whiskey?
Fireball Whiskey was first produced in Canada in 1984 by Seagram. According to the company, it was created mainly as a bartender's way to survive Canada's Arctic winters.
Fireball Whiskey has since become one of the more popular whiskey brands, most especially in the United States. Its surge in popularity over the last 10 years has been dramatic, making it among the world's top-selling liqueurs.
Made in Canada, Fireball Whiskey is owned by the Sazerac Company. They purchased the brand rights and formula from Seagram in 1989.
What is in Fireball Whiskey?
Fireball Whiskey is a mixture composed of Canadian whiskey, cinnamon, and sweeteners. This formula has resulted in a drink that can be consumed on its own or be used as an ingredient for mixes.
Fireball Whiskey will not disclose the specifics of how their drink is made, but what we do know is that the main ingredients are Canadian whiskey and real cinnamon.
What Proof is Fireball Whiskey?
Fireball Whiskey is rated at 66 proof. Its alcohol content is measured at 33% by volume.
Is Fireball Whiskey Gluten-Free?
Fireball Whiskey is not considered 100% gluten-free by most experts. While the distillation process theoretically removes the gluten, there is still an outside chance of an adverse reaction, plus the flavorings used might actually be contaminated.
Fireball Whisky Prices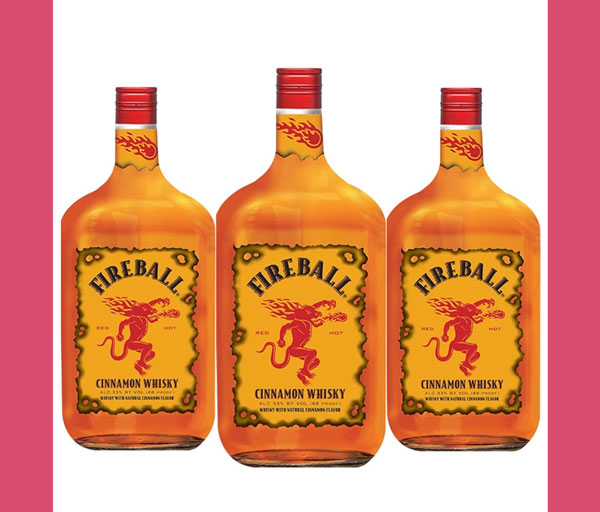 Fireball Whiskey is priced at the midrange for the spiced whiskey segment. It has a lot of competition in this segment, but its price is not all that far off among them.
There is only one variant of Fireball Whiskey available on the market, and it is available in 3 different sizes: 750ml, 1 liter, and 1.75 liters. It must be noted that the prices might be higher outside of the Americas because of importation costs and taxes.
Fireball Whisky Prices List
Fireball Whiskey vs. Jack Daniels Tennessee Fire
While there are many flavored whiskey variants from the Jack Daniel brand, the Tennessee Fire is considered as the best comparison for Fireball Whiskey because of its cinnamon-based flavor. You can fully taste the cinnamon here, but it is not as distinct as it is with Fireball.
The average price of Jack Daniel Tennessee Fire is in the range of $17-23 per 750 ml bottle, which makes it slightly more expensive than Fireball Whiskey of the same size.
Fireball Whiskey vs. Yukon Jack Wicked Hot
As flavored whiskey that traces its roots from Canada, Fireball Whiskey and Yukon Jack Wicked Hot seem to be a perfect match against each other. Classified as a liqueur, Yukon Jack has other flavors contained in it beyond cinnamon.
Based on the market data currently available, the average price of Yukon Jack Wicked Hot Whiskey is rated at $17-23 per 750ml bottle. It is priced at a slight premium over Fireball Whiskey, but their prices are again not all that different from one another.  
Fireball Whiskey vs. Jeremiah Weed Cinnamon
The main difference between Fireball Whiskey and Jeremiah Weed is the type of whiskey used in preparing their signature blends. While Fireball proudly uses whiskey made in Canada, Jeremiah Weed is produced in the USA (specifically in Connecticut), complete with an oak-aged aftertaste.
A 750ml bottle of Jeremiah Weed is priced at an average of $18, which puts it well within the price range of Fireball Whiskey.
Fireball Whiskey vs. Jim Beam Kentucky Fire
Fireball Whiskey also matches up well with Kentucky Fire, the cinnamon-infused variant of the legendary Jim Beam Whiskey brand. Aside from the strong cinnamon flavor, Kentucky Fire can also be distinguished with its hints of vanilla and caramel flavors.
The average price for Jim Beam Kentucky Fire is $15 for a 750ml bottle, which puts its price point within the same range as Fireball Whiskey.
Fireball Whiskey vs. Sinfire Cinnamon Whiskey
Sinfire Cinnamon Whiskey is a perfect matchup to Fireball both for its cinnamon-based flavors and because it also traces its roots in Canada. Best known for its temperature-receptive icicle, it is best served chilled when it is consumed on its own.
The average price of Sinfire Cinnamon Whiskey is virtually similar to that of Fireball Whiskey, which makes them direct competitors of each other in the market.
Carbs and Calories in Fireball Whiskey
Carbs in Fireball Whiskey
A shot (approx.: 45mL) of Fireball Whiskey contains 11 grams of carbohydrates. All of these carbs are derived from sugar, which is one of the major ingredients of this mixture.
How many calories in Fireball Whiskey?
One shot of Fireball Whiskey contains 107 calories. 44 of these calories come from sugar while the rest comes from the spirit itself.
It must be noted that the number of calories can still go higher if you choose to mix your whiskey together with other ingredients to create mixes and cocktails.
Is There Antifreeze in Fireball Whiskey?
There was a controversy involving Fireball Whiskey in which it was discovered that the beverage actually contains propylene glycol, an ingredient found in antifreeze.
However, Fireball Whiskey has addressed this controversy, claiming that such claims are not true. By 2018, Fireball Whiskey has declared that they do not use propylene glycol in any of their products.
Fireball Whiskey Recall
Because of the aforementioned propylene glycol controversy, there was a recall of Fireball Whiskey in some countries in the European Union. These countries are Norway, Finland, and Sweden.
Because of this recall, Fireball Whiskey replaced their products with those that are compliant with the stipulated formulations. As mentioned earlier, Fireball Whiskey has now pronounced their products to be propylene glycol free since 2018.
Fireball Whiskey Reviews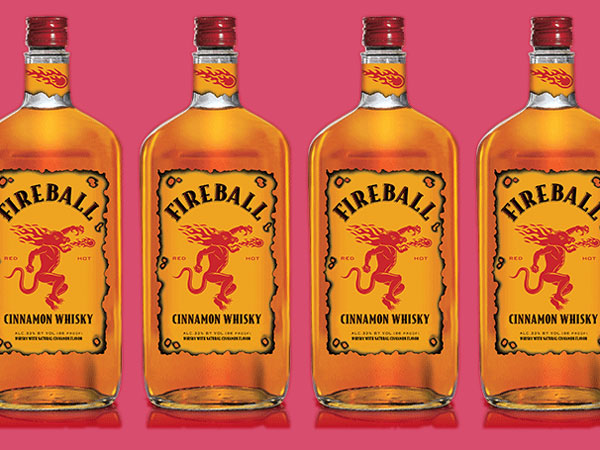 Many would liken the experience of drinking Fireball Whiskey with drinking "spicy candy". You will taste right away the cinnamon, but there are also some hints of mint in there.
This is the cinnamon whiskey of choice for those who want the cinnamon taste to be dominant. For those who want something subtler or more whiskey-dominant, they may want to look elsewhere.
Common Fireball Whisky Recipes: What To Mix With Fireball Whisky
Breakfast in Hell
Instructions:
Mix all of the ingredients together in a mixing glass.

This recipe is best served cold, so chilling is highly recommended.
White Russian
Instructions:
Mix Fireball Whiskey and chocolate liqueur together in a mixing glass with ice.

Pour into glass.

Top with milk or cream and then stir.
Man-Mosa
Instructions:
Mix all ingredients together in a mixing glass and then pour in your glass of choice.

This drink is best served chilled.

Final Thoughts
Fireball Whiskey is a whiskey-based liquor that provides a lot of value for money while providing a distinct taste. You can prepare multiple recipes with it or you can consume it on its own.
Is Fireball Whiskey your favorite cinnamon-flavored whiskey, or you have a different take on this one? Feel free to let us know.