Quick Summary:
Chopin Vodka is a Polish brand of vodka that made its name for creating spirits using only a single ingredient.
Chopin is originally made using potatoes, but it also has other variants such as rye and wheat.
Chopin Vodka is most famous for being a non-neutral vodka, with the taste of its ingredient very much a part of the experience.
Introduction to Chopin Vodka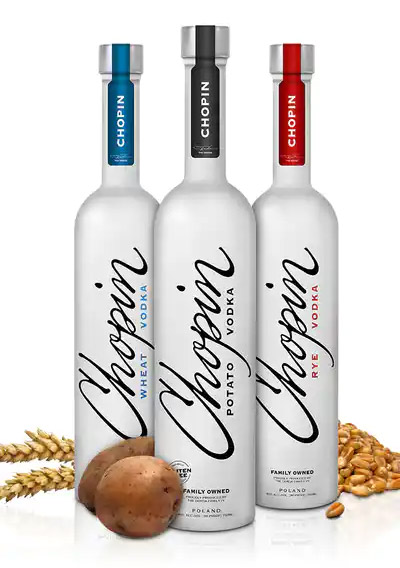 Chopin Vodka has established itself a niche in the highly competitive premium vodka market. In this section, you will learn some of the basics of this product.
What Is Chopin Vodka?
Chopin Vodka was established in 1992 in Poland, with the international market firmly in its sights. Chopin products were first exported in the United States in 1997, and the company has never looked back ever since.
Targeted towards the upscale market, Chopin brought a unique approach to creating a vodka that somehow both appealed and appalled enthusiasts. Regardless, the brand has established a firm niche in the premium vodka market and is a highly respected brand in its own right.
Chopin Vodka is currently owned by Polmos, a company based in Siedlce, Poland. The brand is named after the legendary composer Frederic Chopin.
How Is Chopin Vodka Made?
The secret behind the unique taste of Chopin Vodka is thru a combination of the best ingredients and a unique distillation process. Chopin is proud to say that they only use a single ingredient in each product, and they only make small batches to ensure superior quality.
Chopin is available in 3 different flavors: potato, rye, and wheat. The vodka is distilled 4 times to achieve maximum purity and character.
Their unique approach has led to recognition both locally and globally. Aside from being among the best-selling premium vodka brands, Chopin has also won multiple awards from spirits competitions all over the world.
Some Chopin Vodka Facts
Chopin Potato Vodka has a proof of 80, while its rye and wheat variants have a proof of 70. Needless to say, Chopin has that traditional vodka punch most fanatics look for.
According to their official website, Chopin Vodka is 100% gluten-free, as the distillation process removes the gluten from the final drink.
Chopin Vodka Prices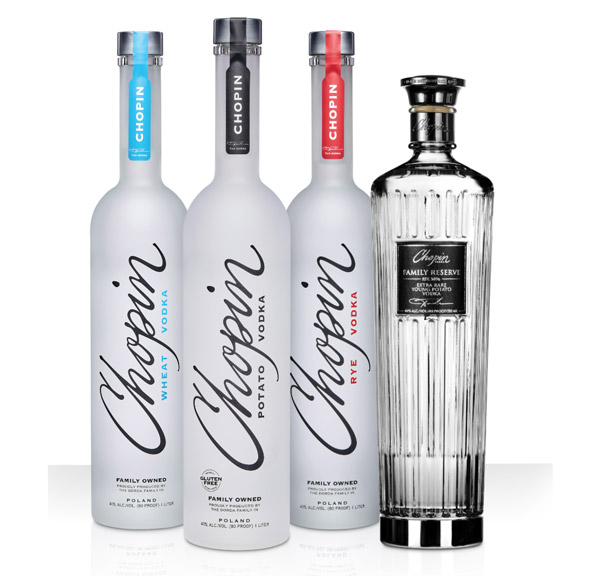 Are you wondering how much you would have to spend to get a bottle of Chopin? This section will give you a breakdown of Chopin Vodka prices, as well as some basic information about their products and the competition.
Chopin Vodka
This is the entry-level product in the Chopin Vodka line. However, as you saw earlier, there is nothing entry-level about the approach they use in creating their products.
As mentioned earlier, Chopin Vodka is available in 3 flavors: potato, wheat, and rye. While wheat and rye are made specifically to target other vodka drinkers to try the Chopin experience, potato vodka is their signature blend.
Considered as the world's most award-winning potato vodka, Chopin uses locally harvested potatoes to produce their vodka. Then with their signature distillation process, the resulting blend is a spirit with a distinct flavor.
Adding more to the mystique of Chopin Vodka is the fact that its taste differs depending on the prevailing conditions during the growth of the ingredients. This ensures that each bottle of Chopin has its own distinct character.
Chopin Family Reserve
This is Chopin's entry into the super-premium vodka market. Dubbed as the world's first super-premium potato vodka, it provides an experience that is unlike just about everything else on the market.
The Family Reserve is produced using young potatoes that are grown right within the fields of the Chopin distillery. Harvesting these potatoes young creates a sweet, earthy flavor that must be tasted to be best appreciated.
The potatoes are then distilled using Chopin's signature approach, and then the resulting spirit is aged in 50-year old Polish oak barrels for 2 years. The mellowed-down formula is then bottled by hand.
An ultra-premium vodka such as this is best enjoyed neat, so you can best appreciate its distinct flavor. However, you can blend this with any of your signature cocktails and create some really awesome mixes.
How Do Chopin Prices Compare to The Competition?
As a premium brand, Chopin Vodka has some well-established brands considered as its competition. Among the brands that can be considered as its contemporaries include Grey Goose, Belvedere, Ciroc, and Ketel One.
In terms of prices, a bottle of Chopin is almost similar to the prices of an equivalent sized bottle of these rival brands. Currently, the average price of a Chopin Vodka is at $25 for a 750ml bottle, which is at par with other more popular vodka brands.
It is a completely different story for the ultra-premium Chopin Family Reserve. Its average price is at $150, which makes it one of the most expensive vodkas currently available today.
Chopin Vodka Prices List
Chopin Vodka Reviews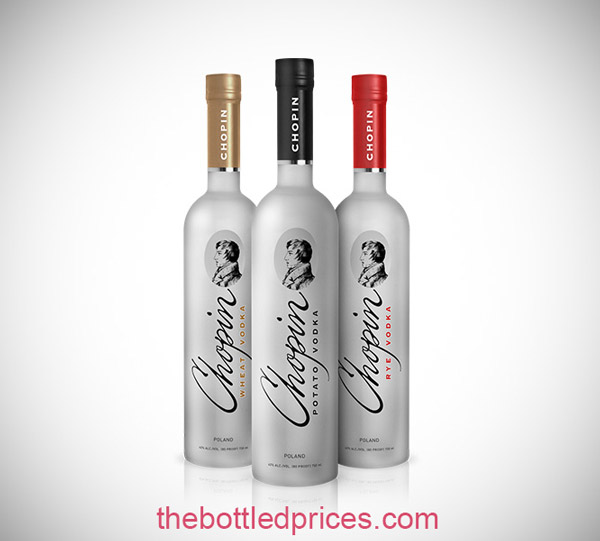 Chopin Vodka is well-received in the spirit-loving community. Beyond the awards it has snagged over the years, many drinkers and vodka enthusiasts actually hold Chopin in high esteem.
Its non-neutral taste may not be something that the traditional vodka drinker would expect, but many still love it anyway because it provides Chopin Vodkas that much-needed character that makes any spirit stand out.
How Many Calories in Chopin Vodka?
A shot of Chopin Potato Vodka, which is about 30ml, contains 69 calories.
Common Recipes: What To Mix With Chopin Vodka
Acapulco Afternoon
Instructions:
Mix together vodka and pineapple juice in a mixer filled with eyes.

Pour to a glass, add garnish, and serve chilled.
Tiger Blood
Instructions:
In a shaker filled with ice, mix vodka, pineapple juice, grapefruit juice, and Chambord.

Pour into a glass and top with sparkling rose.
Cabana Rita
Instructions:
In a shaker, combine vodka, Curacao, watermelon juice, lime juice, and agave syrup.

Mix together then pour into a glass.

Serve chilled.
Final Thoughts
Chopin Vodka makes waves as a premium vodka brand with a distinct character and taste. It may be on the expensive end of the spectrum, but a bottle of it is well worth the price of the acquisition. Have you tried a good potato-based vodka lately?