Effen is a vodka brand imported from the Netherlands. It comes in plain and several flavored ones in an enticingly simpler bottle. You might have passed by it on the shelves of your local liquor store. 
In this article, I will cover facts that you need to know about Effen Vodka to help you decide whether it's worth the try.
Introduction to Effen Vodka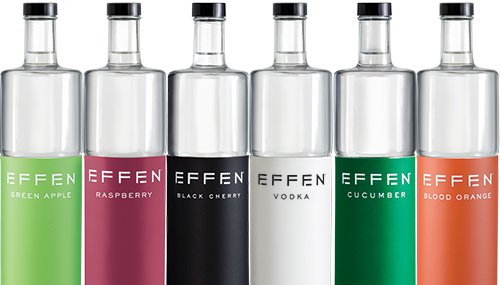 The word "Effen" is a Dutch word that means smooth, balanced, and even. Although imported and distilled in Holland, Effen Vodka is by heart, a Chicago product. It was created and started by three former colleagues at KBA Marketing (A Chicago-based firm) who later took their product to Constellation Brands (another Chicago-based company) who bought Effen and made it grow.
Effen Vodka is made from 100% premium wheat grain that contains the purest kind of starch. The water is from a nature reserve in Holland called Drentsche Plateau and the Drentsche AA National Landscape. The distillation process is called "continuous rectification" – using a vacuum technique and lower temperatures to reduce caramelization and harsh taste.
Effen's history dates back to 1888 when Hooghoudt Distillery was established by baker Hero Jan Hoodhougt. In 2002 their 120-year-old neutral grain spirit recipe was transformed and refined into a product that will appeal to younger drinkers in the club scene. The bottle was also designed for practical grip and modern looking for fast-paced bartenders.
From Constellation Brands, Effen Vodka has been sold to Fortune Brands in 2009. It raised to fame when rapper 50 Cent became a minority stakeholder and started endorsing it with the hashtag "#Effen" on all his social media platforms in 2014. Although he sold his stakes in 2017, Beam Suntory confirmed that its brand partnership with 50 Cent continues.
Effen Vodka Prices: How Much Does Effen Vodka Cost?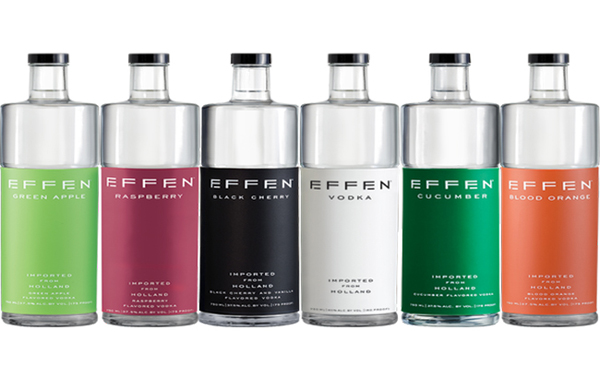 Effen Limited Edition 50 Cent Football

Effen Dutch Raspberry Vodka

Effen Salted Caramel Vodka
The plain Effen Vodka has 40% abv (alcohol by volume) while the rest of the flavored ones are 37.5% abv. Effen Vodka has no artificial flavors or preservatives and uses distilled fresh fruits on its flavored bottles.
These prices are based on various websites like minibar.com, drizly.com, totalwine.com, and theliquorbarn.com. Prices may vary a little depending on your state. You can find the plain Effen Vodka and some of the flavored ones on the shelves of your local liquor store. Some flavors are somehow hard to find, like the newly added Yuzu Citrus and Rose Vodka, which are only available yet in some states.
Effen Vodka also released some limited edition bottles like the football bottle that 50 Cent endorsed back in 2016 that costs $35.99. Two iterations of the Chicago Cubs logo bottles were also made in 2018. This year Effen Vodka proudly announced their collaboration with Allies in Arts and Sam to create the 2021 Pride 365 Bottle. The Chicago and Pride bottles have an SRP (suggested retail price) of $21.99.
The Price of Effen Vodka Versus Other Brands
Effen Vodka's price is in the range of $20 – $30 and most vodka products within this price category are distilled four to five times. Effen Vodka goes thru a meticulous distillation process one hundred times. It creates a level of purity comparable to premium brands such as Grey Goose.
Effen Vodka has been gaining tons of great reviews on the internet nowadays even without 50 Cent's endorsement. Some say it's even better than Diddy's Ciroc, but of course, everyone's palate is different. I personally like the bold orange taste and scent of the Effen Vodka Blood Orange. It's something that you can drink up straight or on the rocks and it goes smoothly with less of a burn. It can even give you that needed extra kick on your orange juice in the morning.
Common Recipes: What Can You Mix With Effen Vodka?
These are two simple Effen Vodka recipes that you can try at home on your own or be the bartender of the night at one of your house parties.
Effen Vodka Beast or what 50 Cent called "The Beast"
Instructions:
Shake and strain all ingredients over fresh ice in a rocks glass.

Garnish with brandied cherries.
Rosé and Soda
Instructions:
Chill a rocks glass in the refrigerator.

Mix the Rosé Vodka and club soda over ice.

Garnish with peach slice and frozen raspberries – optional.
Final Thoughts
Effen Vodka might be cheap compared to premium vodka brands in the market, but it offers extra value than the other vodka brands you can find in that price range. Anyways, who doesn't want quality vodka without the hefty price tag, right?
Like its famous tagline "Designed by bartenders for bartenders", Effen Vodka – plain or flavored makes an excellent base for most of your favorite cocktail drinks. So the next time you visit your liquor shop, go and grab that cheap bottle of Effen Vodka and see what everyone is "Effen" talking about!