Quick Summary:
Jameson is the world's best-selling Irish whiskey and a staple in pubs and bars in every corner of the world.
Jameson Whiskey prices fluctuate based on supply, consumer demand, cost of production, inflation, and other external factors.
Despite the increasing prices and economic slowdown, Jameson Whiskey remains a force to be reckoned with in the Irish whiskey market.
Introduction to Jameson Whiskey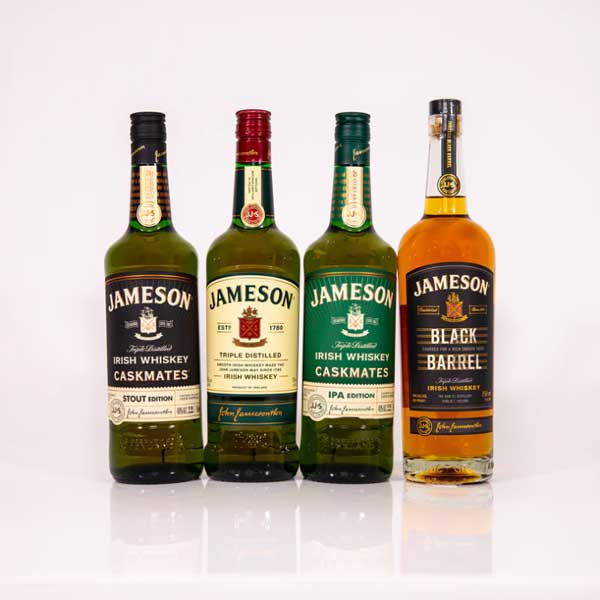 Jameson Whiskey is one of the most recognizable whiskey brands in the world. Founded by John Jameson in 1780, the popular Irish whiskey has survived the turbulent times of the 19th century and the Prohibition from 1920 to 1933.
While the popular whiskey had its start in Jameson Distillery Bow St. in Dublin, every drop of Jameson Irish Whiskey is produced at Jameson Distillery Midleton in County Cork. It is operated by Irish Distillers, a subsidiary of the French alcoholic beverage conglomerate Pernod Ricard.
The location of the distillery allows Jameson to get the main ingredients from nearby local sources—barley and water from the Dungourney River. From grain to glass, it's quintessentially Irish and sold to the world.
The signature smoothness of Jameson Whiskey comes from the triple distillation process that removes impurities. The distillation also makes Jameson Whiskey gluten-free.
Jameson's skilled craftsmen blend malted and unmalted barley that are distilled in pot stills. The whiskey is then aged in seasoned oak barrels for no less than three years. Jameson is one of the few distilleries that still uses this centuries-old method. The result is 80 proof whiskey with a distinctively smooth finish.
Jameson Whiskey Prices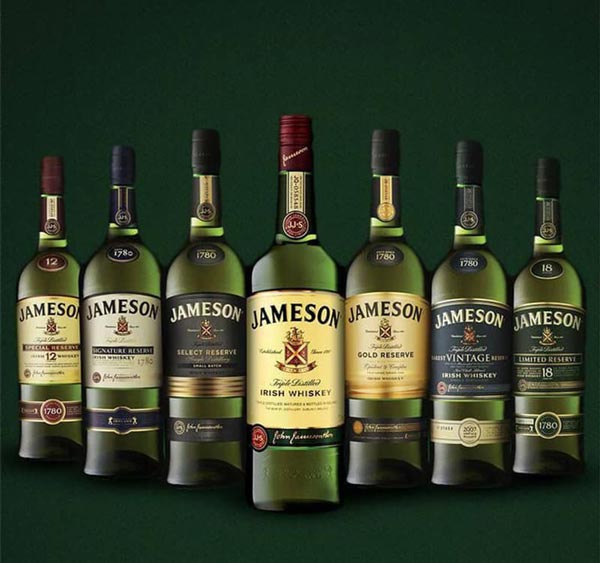 Whiskey prices fluctuate drastically, depending on the type and variety. The cost of a bottle of whiskey today is driven by several factors, some of which have nothing to do with the cost of production.
The primary retail market remains the main source for current releases of whiskey products. Prices for whiskey in this market pretty much follow the suggested retail price. Prices start to vary wildly when whiskey originally sold at retail enters the secondary market, also known as the resale market.
To make sense of the differences in price points from various sellers—primary retail market, specialist retailers, secondary market—it would help tremendously to identify the drivers that determine the price of whiskey.
The age of the whiskey can influence its price point. Well-aged whiskey varieties have limited production because whiskey producers are not able to sell the whiskey until 20 years from its production date. This means that the barrels used to store the whiskey would have to be tied up for a very long time.
The opportunity cost of doing this is high and so they need to sell well-aged whiskeys at considerably high prices. Just keep in mind that aging the whiskey does not indicate its quality, but the rarity of well-aged whiskey drives up the price. It is expensive not because it is old and well-aged, but because there's only a few of them left.
Whiskey producers want to differentiate their whiskeys so that they gain a competitive advantage. For instance, whiskey producers that sell single-malt whiskey can command a 5-figure price point and it is marketed as a premium whiskey with a distinct flavor profile not experienced elsewhere. The process from grain to glass is a hard process to get right, but when distillers do, it gives their branding a big boost.
Cost of Production and Inflation
When the price of ingredients and other materials (e.g., casks) used in whiskey production goes up, there's a corresponding increase in the price of the finished product. In recent years, whiskey prices have gone up in line with inflation rates.
Demand and the Secondary Market
Consumer attitudes towards whiskey have changed significantly over the years. More consumers are now willing to pay premium prices for whiskey, either for immediate consumption or for resale in the future.
Consumers are particularly enamored by limited-edition whiskey because of the collectability factor. To some whiskey connoisseurs, they see rare and well-aged whiskeys as investments.
Despite rising costs and economic slowdown, Jameson Whiskey continues to register record sales and even breached the 8 million sales volume (in 9-liter cases) in 2019.
Jameson Rarest Vintage Reserve Price
Among the Jameson family of whiskeys, the Jameson Rarest Vintage Reserve comes out as the most expensive. This premium whiskey is made with some of the oldest and rarest stock from the distillery. Made of top-quality grain whiskey and port pipe-matured pot still whiskey, the Jameson Rarest Vintage Reserve has a distinct sweetness with a smooth and delicate finish. It is expensive because well-aged whiskey is used to produce it.
Jameson Select Reserve Black Barrel Price
The Jameson Black Barrel can be considered the mid-level whiskey variety in terms of quality and price. The higher price point can be attributed to the extra process and ingredients put into making the whiskey. It has a richer flavor profile but a lot smoother finish than the lower-priced counterparts.
Jameson Whiskey Prices List
Jameson Caskmates IPA Edition

Jameson Caskmates Stout Edition

Jameson Rarest Vintage Reserve

Jameson Irish Whiskey (12yr) 1780

Jameson Irish Whiskey Redbreast 12 Year Old

The 2017 Jameson Limited Edition Bottle
How Does Jameson Pricing Compare?
Jameson Irish Whiskey is considered as an entry-level whiskey and is comparable to Tullamore D. E. W., Bushmills Original, Green Spot, Redbreast, and Paddy, among others. Jameson is like a standard-issue pub whiskey and is omnipresent. It's reasonably priced and accessible to a wide variety of consumers.
What is a "Blender's Dog" and Why the Cost?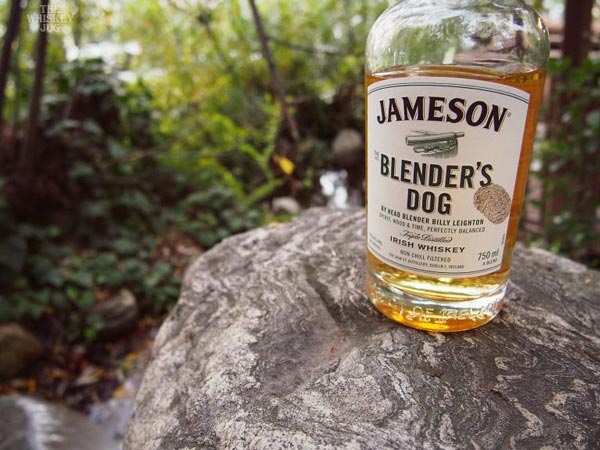 The Jameson Blender's Dog is part of the Jameson Whiskey Makers Series which celebrates the craft of head distiller Billy Leighton. The Blender's Dog is the tool that he uses to achieve the complex balance of flavors that epitomizes the craft.
This whiskey blend is characterized by a citrusy note and a rich creamy taste with hints of sweetness from butterscotch. The higher malt content gives the blend more depth that could very well justify the higher price point.
Jameson Black Barrel vs. Jameson Original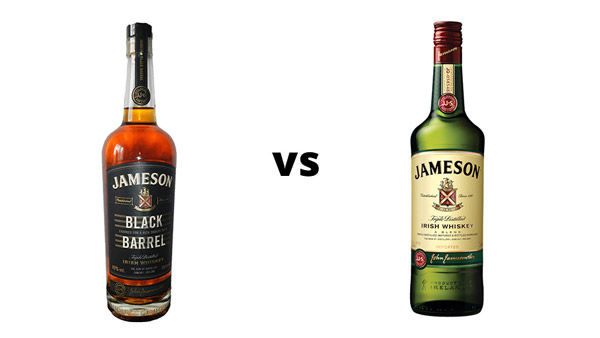 The Jameson Black Barrel is easily distinguishable from the Jameson original whiskey because of its fuller flavor profile and smoother finish. The blend of grain whiskey and pot still was left to mature in double charred bourbon casks (hence, the name black barrel). This is why the citrus, fruity, and vanilla notes are much more noticeable.
Jameson Whiskey Calories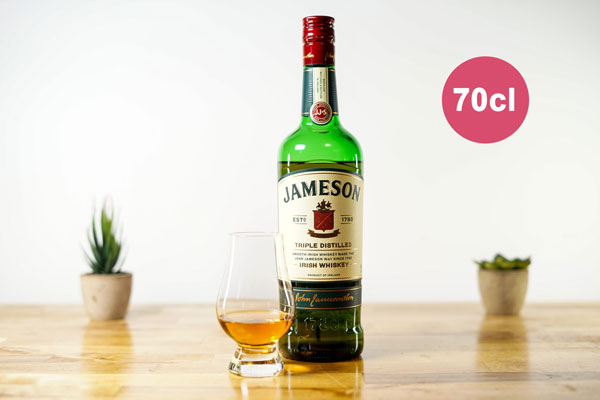 Just how many calories are in a bottle of Jameson Whiskey? There's no nutritional information on Irish whiskey bottles where accurate data can be obtained. So the calorie information would have to be derived from the ingredients that are used in the production of the whiskey.
Typically, there's barley, corn, wheat, and rye in the whiskey blend. But here's the thing; after the distillation process, the resulting mixture is just water and alcohol. Pure alcohol has seven calories per gram.
Proof matters when getting the calorie content of whiskey—the higher the proof, the more alcohol in the drink.
No whiskeys are ever the same because every distiller has its own trade secrets and distillation process. There will always be some variations in ingredients. In terms of sugar, the natural sugar content in Jameson Whiskey is negligible so it's not going to disrupt your diet if you're calorie counting.
Jameson Whiskey Calories List
| | Calories per 30ml Serving | |
| --- | --- | --- |
| | | |
| | | |
| | | |
| Jameson Caskmates IPA Edition | | |
| Jameson Caskmates Stout Edition | | |
| | | |
| | | |
| | | |
| Jameson Rarest Vintage Reserve | | |
| | | |
| | | |
| Jameson Irish Whiskey (12yr) 1780 | | |
Jameson Whiskey Recipes: What Goes Well with Jameson?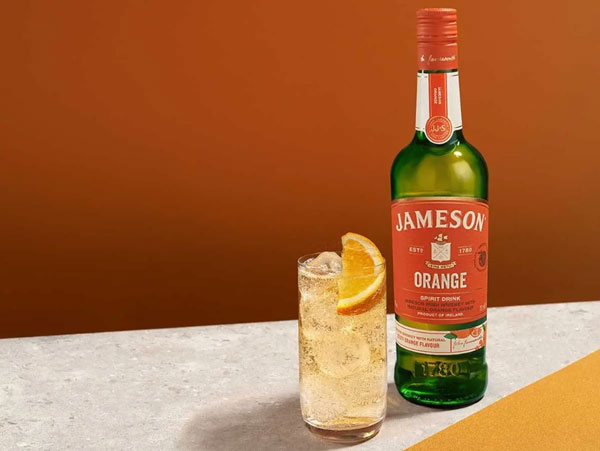 Jameson Whiskey is a staple in pubs and bars because it has a sweet taste with a smooth finish, which can be enjoyed straight-up or blended with a wide variety of mixers. Its light and clean mouthfeel make it a great spirit base for cocktails.
Irish Buck

Irish buck is a ginger-based cocktail that features Irish whiskey as the alcohol base. It is similar to the Moscow Mule (vodka) and Mamie Taylor (scotch), but in this refreshing cocktail, the Jameson Whiskey shines.
Instructions:
Pour the whiskey onto a Collins glass filled with ice.

Squeeze in the fresh lime.

Add the ginger ale.

Garnish with a lime wheel.
Jameson Irish Coffee

With the lovely vanilla note and softness of the Jameson Whiskey, it's perfect for making an Irish coffee that perks you up with every sip.
Instructions:
Pour the whiskey into a small glass.

Add the sugar syrup. Mix well.

Add the medium roast coffee.

Lightly whip the double cream and let it float on top of the coffee-whiskey mixture.

Garnish with grated nutmeg to add a little spice.
Final Thoughts
Jameson Whiskey is the best-selling Irish whiskey in the world for good reason—it produces a range of whiskey varieties that cater to different taste palates. The affordable price point makes it accessible to whiskey drinkers the world over. With an increasing demand for Irish whiskey, Jameson is in a position to be bullish about the future.