At a Glance:
Dom Perignon is considered as the tête de cuvée of the Champagne house, Moët and Chandon.
It's a well-known symbol of fine living and luxury.
It has established the golden standard for champagnes, a remarkable feat for a champagne house barely a century old.
Introduction of Dom Perignon Champagne
Representing Luxury and Fine Living
When it comes to luxury and fine living, nothing beats the Dom Perignon champagne, a name that has become synonymous with the aforementioned terms. This drink, often used in toasts and celebrations, is the tête de cuvée or prestige cuvée of the Champagne house, Moët and Chandon.
The History Behind the Name
Although it has become a symbol of luxury and fine living, the person after which this champagne is named was the complete opposite. This luxurious drink was named after a Benedictine monk from the 17th century, Dom Pierre Pérignon.
As the cellar master of the Abbey of Hautvillers, Dom Pérignon believed that working hard brought him closer to God and, therefore, sought after creating the "best wine in the world." With that, he then created a new way of blending grapes to improve the quality of the wine and introduced the concept of corks.
This symbol of luxury was first created in 1921 and was gifted to the Moët family during a wedding by Champagne Mercier. However, it wasn't released for commercial sale until 1936 when the company Simon Bros & Co ordered the first 300 bottles.
It got enough attention that a hundred more bottles were shipped to the United States – and the rest was history.
Is Dom Perignon Worth It?
As mentioned, Dom Perignon has become the symbol of luxury and fine living, often chosen as the drink at big events and celebrations. It has established the golden standard for champagnes, an impressive feat considering that Moët and Chandon is a champagne house that's barely a century old.
However, it has earned its reputation for luxury and excess for a reason. As you can see below, prices for this begin at $147, a price that not many can afford. But why is it so expensive? Are the taste and quality worth paying hundreds and sometimes, thousands, of dollars?
Let's check out a few of the reasons why Dom Perignon can be worth every penny:
Age of the Wine – Vintage
While other wines are released to the market after being aged at least 3 years, Dom Perignon sets itself apart by aging its champagnes at least 9 years before releasing it to the public market.
Made from Pinot and Chardonnay
Dom Perignons are always made with two types of grapes – Pinot and Chardonnay. While the ratio of each grape varies for each version, the consistent use of two types of grapes and the restrictions added to the manufacturers contribute to the high prices.
Despite its popularity, not every year does the Champagne house release a Dom Perignon. This is because they only release these champagnes that have been aged for a minimum of 9 years.
Only the Best for the Best
As they have a reputation to uphold, the creators of Dom Perignons adhere to strict guidelines when it comes to their wine. This includes the grapes they use for their wines. Aside from being of the highest quality possible, the grapes used in Dom Perignons are to be pruned only in the morning and are not allowed to grow beyond three feet.
Dom Perignon Champagne Prices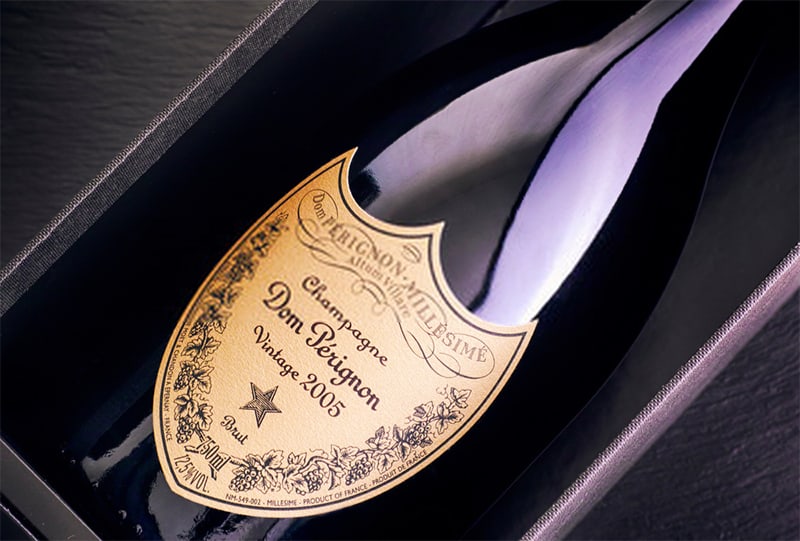 As the symbol of high-class society and luxurious living, Dom Perignon is typically not a wine that many of us can partake in regularly. As such, it is often reserved for big milestones and celebrations.
The starting price for a Dom Perignon champagne is $147. This is way higher than the other brands of wines on the market. This explains why it's only often used on occasions due to its high price point.
The price of each Dom Perignon champagne will then vary depending on its vintage year. However, older doesn't necessarily mean more expensive. For example, the Dom Perignon 1985 bottle is priced at approximately $380 but is less expensive than the Dom Perignon 2014 bottle at $480.
Common Dom Perignon Champagne Price List
To have an insight as to how much each Dom Perignon champagne bottle costs based on its vintage year, here's a price list you can check out:
Dom Perignon Champagne Vintage Prices List
Do keep in mind that these prices are only approximate values and are therefore subject to change anytime.
Other Champagne Houses
While Dom Perignon is considered the best among the best, there are other big names in the game that are worth checking out as well.
Veuve Clicquot – One of the more well-known brands out there, this French Champagne house offers champagnes for as low as $56.
Nicolas Feuillatte – Despite having the best-selling champagnes in France, it is only third in terms of prestige. Nevertheless, you can avail of their offers for as low as $50.
Louis Roederer – Maker of the Cristal champagne, Louis Roederer is no doubt one of the bigger names in the industry, with selections that sit at around $200.
Final Thoughts
Dom Perignon is a name that many are familiar with, wine connoisseur or not. The champagne has made a name for itself as the ultimate symbol of class and sophistication, exuding luxury with every sip.
With its distinct taste and excellent quality, it's not a surprise how its reputation as the epitome of luxury came to be. For a Champagne house that was only established within a century, it's an amazing feat that Moët and Chandon have managed to turn it into the gold standard for champagnes.