Quick Summary:
Burnett's Vodka is a US-based vodka brand best known for having multiple flavors.
Burnett's Vodka is one of the more affordable vodka options out there on the market.
The number of flavors available in Burnett's Vodka makes it a favorite among mixed drink lovers.
Introduction to Burnett's Vodka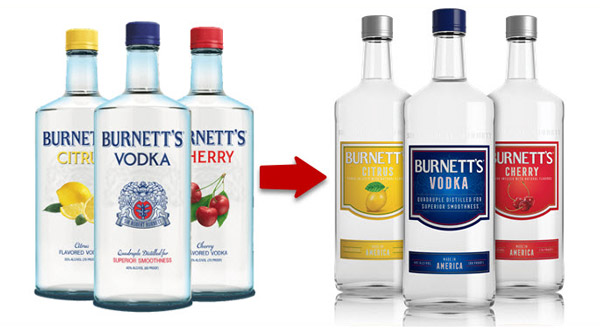 A short history of Burnett's Vodka
Burnett's Vodka was established in 1991. Since it was released, it has been able to win its fair share of awards and has established itself as one of the better brands of its kind on the market.
Burnett's Vodka is currently owned by Heaven's Hill Industries, one of the USA's biggest spirit makers. Made in the USA, Burnett's has been able to establish a niche for its own in the vodka market both locally and internationally.
What makes Burnett's Vodka special?
For superior smoothness, Burnett's Vodka goes the extra mile in creating their products. It is quadruple distilled and triple charcoal filtered to create a drink that is among the purest on the market.
Just like with most vodkas, Burnett's is made using grains. While the company has not specified which type of grain, it is fair to assume that it is the usual wheat or rye used for producing similar vodkas.
While their plain vodka is a force in itself, Burnett's has made its name with its multitude of flavored vodkas (a stand-alone section is dedicated to these flavors). With flavors ranging from mild to wild, Burnett's has established itself as a go-to brand for those seeking flavored vodkas.
Some facts about Burnett's Vodka
The alcohol content on Burnett's Vodka can vary from flavor to flavor. The plain variant is measured at 80 proof, while the flavored ones are mostly rated at 70 proof.
Just like most vodkas, Burnett's is made using grains. However, thanks to the distillation process, gluten, and other allergens are removed, making it safe for people with celiac disease and other sensitivities.
According to Burnett's Vodka, both the plain and flavored variants of their products contain zero carbs. Of course, it will still have calories because the alcohol itself has caloric content.
Burnett's Vodka Prices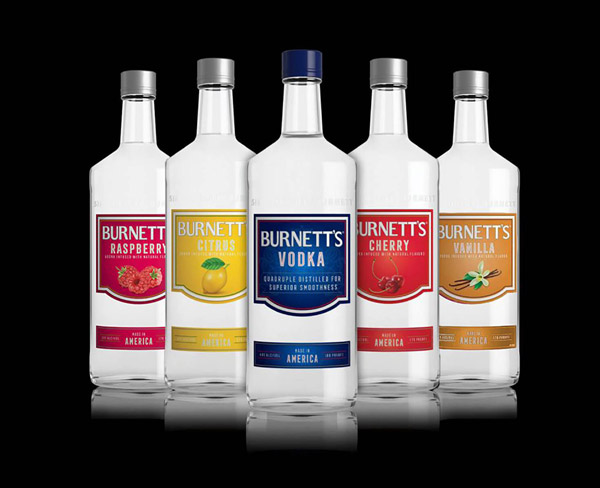 You can get a 750ml Burnett's Vodka bottle for just below $10. This holds true for both the original Burnett's Vodka and its myriad of flavored variants.
This makes it a very cheap option for those who want to get a party started on a budget. Its sheer range of options and strong punch make it a great choice for party-goers on a budget.
Burnett's Vodka Price List
Burnett's Prices Compared to the Competition
Given its reputation as a flavored vodka maker, the natural competition for Burnett's is the likes of Pinnacle Vodka, UV Vodka, and Denaka Vodka. Another reason why these brands are competitors is that their prices are more or less identical.
Based on the price range, Burnett's is considered an entry-level vodka option. Compared to these competitors, Burnett's have a price that is equal and sometimes even cheaper.
When it comes to quantity, quality, and outlandishness of flavors, it is basically up to the drinker to decide. Any of these brands have some interesting flavors, both traditional and obscure.
Burnett's Vodka Flavors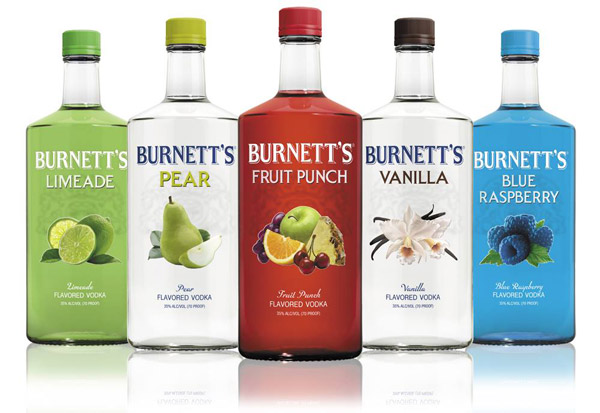 Burnett's Vodka has established itself as one of the most popular brands of flavored vodkas in the world. Adding to that reputation is the sheer number of options they offer when it comes to flavors.
Currently, Burnett's flavored vodka catalog contains more than 30 different flavors, categorized under 3 classes: fruit, sweet, and spiced. Ranging from mild to wild, their wide range of flavors will send your taste buds on an adventure.
Any of these flavors can be consumed on its own or can be made a part of any mix. With that many flavors at your disposal, the possibilities are almost limitless with Burnett's.
Burnett's Vodka Reviews
The reviews are mixed when it comes to Burnett's Vodka. Some consider it as a vodka that has great value for money, while others say that they would not like to try it again for one reason or another.
The sheer variety of flavors available makes it quite a novelty to try. For every occasion or cocktail idea, there is seemingly a Burnett's Vodka flavor that's perfectly fit for it.
It also gets some extra points for being more affordable than most of the competition. Therefore, those looking for more bang for the buck will gravitate towards Burnett's.
If there's one downside to drinking Burnett's, is that most reviewers say that they had some nasty hangovers when consuming it. Some would also claim that it is not as smooth or tasty as some would think it is.
How Many Calories In Burnett's Vodka?
The calories present in one shot of Burnett's Vodka is measured at 64 calories. All of its calories come from the alcohol itself, as it contains zero carbs, protein, fat, or other nutrients.
Common Burnett's Vodka Recipes: What to Mix with Burnett's Vodka
Frose
P.S. This recipe can serve up to 5 people.
Instructions:
Create syrup by boiling sugar with water, then let cool.

In a blender, mix the syrup together with the rest of the ingredients.

Serve cold.
Sea Breeze
Instructions:
Mix together all ingredients in a shaker glass filled with ice.

Serve chilled.
Broad Street Treat
Instructions:
Mix vodka, triple sec, and cranberry juice in a glass filled with ice and stir.

Add club soda to taste.
Final Thoughts
Burnett's Vodka makes its name for its sheer number of options and its relative affordability. If you want to throw a huge party, this is one spirit you would have to at least consider.
Do you have a go-to Barnett's flavor, or do you have a recipe or experience to share? Let us discuss.