Quick Summary:
UV Vodka is proof that high quality doesn't always equate to high prices.
UV Vodka offers a variety of smooth and superior flavors at very affordable prices – and in very colorful bottles, to boot.
UV Vodka goes through the distillation process 4 times, ensuring suave and safe drinks.
Introduction to UV Vodka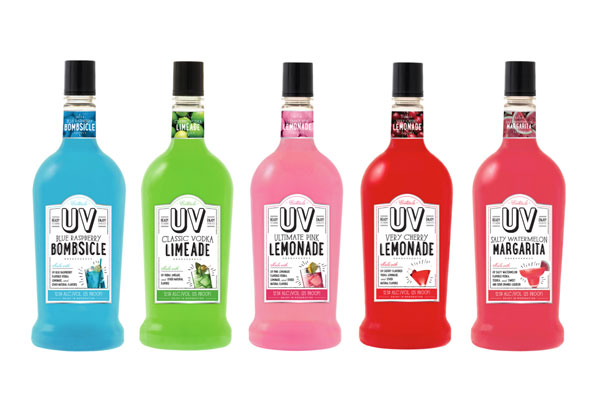 What Is UV Vodka?
UV Vodka takes pride in its stunning illumination of vodka bottles that present all the colors of the rainbow. Aside from the beautiful exhibition of hues, UV Vodka caters to your taste buds with a unique line of flavors.
Some of the most popular and must-try UV flavored-vodkas are UV Pink Lemonade and UV Blue Raspberry. New additions to the list are UV Cake and UV Whipped.
Who Owns UV Vodka?
UV Vodka is an award-winning collection of high-quality spirits. It is owned by Philipps Distilling Company, which has been one of the oldest family-owned spirit companies that offer a wide array of cutting-edge premium brands.
Their One Team GREEN initiative – Growing Responsibility, Ethically, and Environmentally Now – is worth supporting! Getting boozed and saving Mother Nature at the same time? We are conserving the planet while downing bottles vodka, who would even want to complain?
What Is UV Vodka Made From?
Out with the bland, boring, glass bottles. UV Vodka comes in a wide array of all-natural flavors encased in vibrant and cheery packaging that could truly bring life to the party. The spritely elixir is concocted from Midwest-grown yellow corn and water drawn from the deep aquifers of Princeton, Minnesota.
Normally, producers would distil their vodka about three times but just to make sure, UV Vodka undergoes the process four times. This is to guarantee that customers will enjoy a safe and suave beverage.
Where Is UV Vodka Made?
Originating from the land of lakes, UV Vodka is born from the great minds of Minnesota, USA and distilled in Minneapolis by world-renowned Philipps Distilling Company, which is the manufacturer of house brand liquors on the Great Plains.
Is UV Vodka Gluten-Free?
Gluten-free vodka is typically made of grains like corn, barley, and rye. They are known to be much more affordable than the normal vodka. In order to be referred to as "gluten-free", the vodka must not exceed the 20ppm (parts per million) gluten level according to FDA standards.
Gluten proteins are removed during the distillation process and since UV Vodka undergoes an extensive distillation process, it is safe to say that UV Vodka is cleared for gluten-free drinking.
What Is the Proof of UV Vodka?
Twice as much of the liquor's alcohol content is equivalent to the proof of a vodka written on the label. In cocktail mixing, the frequently used vodkas have a higher proof to provide more flavor. However, these vodkas may both have pros and cons for the consumer. UV Vodka ranges from 60-80 proof, which is highly recommendable to moderate drinkers.
UV Vodka Prices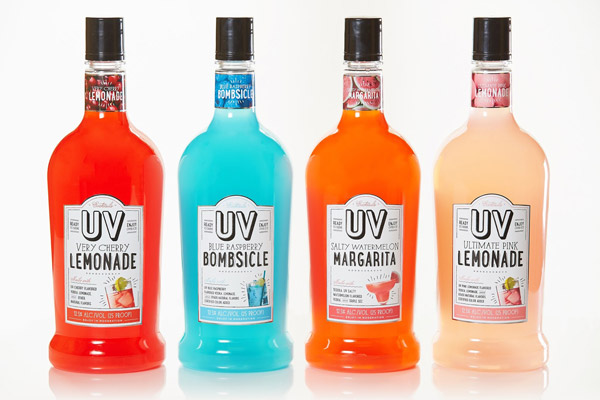 Of course, who would not be happy if a bottle of vodka would come out cheap? Normally, the price is an indicator of quality. Well, here is a bit of good news for you! UV Vodka does not only offer superior taste and quality, it also comes at a very affordable price.
This is the perfect thirst quencher when you are going through an extreme budgeting mode. With pocket-friendly UV Vodka prices under $10, you can already take pleasure in making your very own cocktail recipes.
One of the smoothest vodkas on the planet, UV Vodka undergoes 4 distillations and filtering with the use of activated carbon. The result is a smooth, clean, and refined taste at 80 proof and 40% alcohol content. It is simply special and unforgettable.
Great when taken pure on the rocks, it is also great for use in cocktails. The best part is its surprisingly affordable price. A 750 ml. bottle costs only from $8.99 to $11.99, $13.99 to $16.99 for a 1 L bottle, and $16.99 to $21.99 for 1.75 L.
At 60 proof and a 30% alcohol volume, the vodka with an impressive blue color comes in a soft and fresh scent of fambuesas. The taste has a delicate touch of sweetness and hints of fresh raspberries.
As with the rest of the high quality UV Vodka line, the price is affordable. A 750 ml. bottle of UV Blue Vodka costs only from $8.99 to $11.99.
A vodka that traces its roots in Spain, the UV Cake Vodka is another Phillips Distilling Company product that has undergone 4 distillation cycles. The process helps create a spirit with optimal purity, character, and neutrality.
The 60 proof vodka has collected a handful of awards for its superior taste and top-notch quality – all at a low price. A 750 ml. bottle of UV Cake Vodka costs anywhere between $8.99 and $11.99.
The UV Cherry Vodka is 60 proof and has a 30% alcohol volume. It comes in red color owing to its cherry flavor. In fact, the vodka contains natural cherry juice, resulting to its sweet taste. A 750 ml. bottle of UV Cherry Vodka costs from $8.99 to $11.99.
UV Vodka Reviews
UV Vodka has garnered a number of recognitions throughout the years. It has won prestigious awards for their various products, including the UV Whipped and UV Sweet Green Tea that were awarded Platinum at the SIP Awards.
UV Whipped bagged a Double Gold Medal at the 2012 WSWA Wine and Spirits Tasting Competition and UV also won another Double Gold Medal at the San Francisco World Spirits Competition.
Impact Magazine, which is the top publication in the liquor industry, gave UV the Blue Chip Award as well as named UV Vodka a "Hot Brand" eight years in a row. Both the Wine Enthusiast and the Wine Spirits Challenge granted an "Excellent" and "Highly Recommended" rating for UV Vodka, respectively.
How Many Calories Are There in UV Vodka?
Vodka is known to possess a low-calorie count with no nutritional value, carbs, fat, or sugar. A 1.5-ounce shot of UV Vodka has approximately 100 calories. It can be used to make different sorts of mixed drinks, and plain UV Blue is a good choice to help keep the calories lower.
Common Recipes: What to Mix with UV Vodka
Steps To Make It:
Gather all ingredients.

Pour ice halfway in n an old-fashioned lowball glass.

Add UV Silver and top with sparkling water.

Steps To Make It:
Gather all ingredients.

Fill a highball glass halfway with ice.

Pour UV Blue and top up with lemonade. Regular lemonade can be substituted to sugar-free to lessen carbs.

Serve and enjoy!
Steps To Make It:
Gather all ingredients.

Fill a shot glass halfway with ice.

Add frozen yogurt and top it up with UV Blue.

Serve and enjoy!
Conclusion
UV Vodka proves that quality does not always come with a heavy price. UV Vodka prices will not poke holes in your pocket. However, it will surely keep your thirst and taste buds satisfied.
With a rigorous distillation process, a meticulously designed packaging, and great variety of flavors, UV Vodka has those checked off the spirit bucket list. No wonder those awards just keep piling up.