Quick Summary:
Hpnotiq has earned a reputation as a liqueur popularly served for celebrities. With 17% alcohol volume, it is a fruity mix with a solid alcoholic punch.
Hpnotiq is prepared using a proprietary mix of 5 different blends of French cognac, triple-distilled vodka, and an undisclosed combination of tropical fruit juices. Enthusiasts say it has a taste dominated by hints of mango and passionfruit.
Hpnotiq can be consumed on its own or can be used to prepare a wide range of mixes. Among the popular drinks where Hpnotiq can be used include the Martini, the Blue Islander, and the Incredible Hulk.
Introduction of Hpnotiq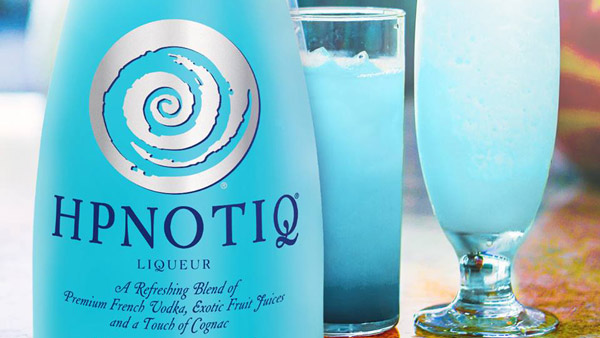 What is Hpnotiq?
Hpnotiq is a liqueur that is relatively new to the scene yet was able to take the alcohol world by storm with a combination of unique taste, superior versatility, and savvy marketing.
Compared to other alcoholic products that were around for at least a century, Hpnotiq was just actually created in 2001. This liqueur was created by Raphael Yakoby, a then-college student who was then inspired by perfumes.
With Yakoby and his business partner Nick Storm unsuccessful in selling their liqueur to alcohol brands, they focused on selling it in local clubs and bars in New York. Their big break came when Sean "Diddy" Combs agreed to sell Hpnotiq in his New York club Justin's.
Since then, Hpnotiq has become a popular choice for drinkers all over the country. In fact, a lot of celebrities swear by this drink, even mentioning some songs.
Hpnotiq was since then owned by Heaven Hill Distilleries. To this day, the brand continues to make its name both as a liqueur and as a pop culture fixture.
What makes Hpnotiq special?
The mix was created by a secret mix of cognac, vodka, and tropical fruit juices. The resultant formula is a blue liqueur that is attractive to the eyes with a taste that can be mixed with just about anything.
Being an upscale brand, Hpnotiq is created only with the finest ingredients to produce the best-quality liqueur possible. While they keep the specifics of their formulation secret for obvious reasons, they are not very ashamed to talk about what goes into each bottle.
Hpnotiq uses 5 different kinds of premium cognac to produce a distinct taste. Even more interesting is that all these cognacs are derived from France, the traditional home of this spirit.
The vodka used for the mix is also equally premium. Also derived from France, they utilize vodka that was prepared using a triple distillation process for maximum purity.
While Hpnotiq would not say what the fruit juices used for Hpnotiq are, experts would say that the mix has strong hints of mango and passionfruit. This fruit mix is not just responsible for its sweet taste but is also partly responsible for Hpnotiq's distinctive blue color.
What is proof of Hpnotiq?
The alcohol content of Hpnotiq is measured at 17%, giving it a proof of 34. While this may not seem much for some, each shot still carries a considerable punch.
Hpnotiq tastes great enough that can be consumed on its own; just chill it or add some ice for best results. You can also use it to prepare all kinds of cocktails and beverages, as it's a popular ingredient in most mixed drinks you find in bars.
Hpnotiq Prices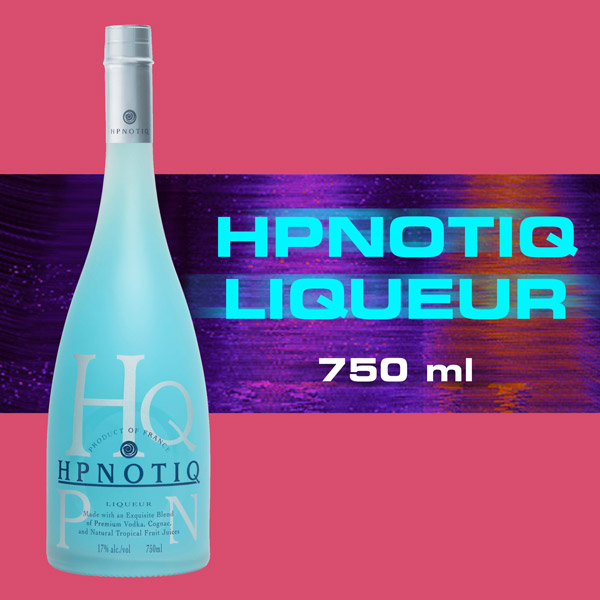 There is only one variant of the Hpnotiq available, so you don't have to find anything else. It is also available in 2 sizes, 750ml, and 1 liter.
Hpnotiq price can differ depending on where you will make your purchase. However, based on current prices on some of the most common retailers, a 750ml bottle can be yours at an average price of $20.
Comparatively speaking, Hpnotiq's price point is similar to some of its rivals in the liqueur market. While no one liqueur is completely similar to the other, it compares favorably well with other fruit-based liqueurs with wild colors.
How does Hpnotiq prices compare?
As a fruit-based liqueur, Hpnotiq has a number of rivals in the market. Among its most popular competitors include X-Rated Liqueur, Alize, and Qream.
So how does Hpnotiq prices compare to its competition? Considering that the examples we gave are priced in the $20-30 range on average, its prices match up almost equally with its rivals.
How many calories are in Hpnotiq?
The amount of calories present in Hpnotiq is surprisingly high; it is measured at 103 calories per 1 ounce, which is equivalent to 30ml or your typical shot. Furthermore, the majority of its calories come from sugar, which is not surprising because of its heavy fruit content.
Of course, the number of calories can still go higher if you will mix Hpnotiq to prepare other beverages. For those who are cutting down on calories, this can be a potential concern.
Common Mixed Drinks with Hpnotiq
Incredible Hulk
Instructions:
In a glass filled with ice, pour cognac then add Hpnotiq.

You can then see the drink transform from blue to green. Serve chilled.
Blue Islander
Instructions:
In a glass filled with ice, mix all the ingredients together until drink is chilled.

You can adjust the amount of pineapple juice to taste.

Add fruits for garnish and serve chilled.
Berry Fusion Martini
Instructions:
Fill a cocktail shaker with ice.

Mix all of the ingredients together, shake until cold, and pour in a Martini glass.

Garnish with frozen berries.
Blue Goose
Instructions:
Fill a cocktail shaker with ice.

Mix all of the ingredients together, shake until cold, and pour in a glass.

Adding a sugar rim into the glass is optional.
Final Thoughts
So that was basically the lowdown on Hpnotiq prices. It is not exactly the cheapest liqueur out there, but you do get what you pay for with this one.
Do you know other liqueurs that are better than Hpnotiq? Do you have your own favorite mixes? Share your thoughts with us right here!