Quick Summary:
Buchanan's is a smooth blended whisky sold at middle range prices. It takes a little distance up against low-priced Johnny Walkers and the bourbons Jack Daniels and Jim Beam, and can be as expensive as Don Julio Tequila.
The 18-year old blend costs around $85.
Their 12-year old blend is offered for at least $29.99.
Buchanan's Red Seal 21-year scotch's lowest price in the market is $169.
Introduction to Buchanan's Whisky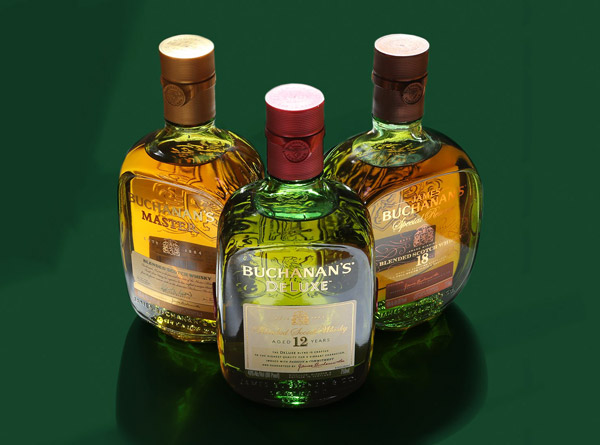 Buchanan's dates back to 1884 when its maker created a blend with a smooth and refined flavor. That blend would later become highly appreciated by wine drinkers from all over the world.
What is Buchanan's Whisky?
Buchanan's whisky is a whisky that had been aged in casks for at least 12 years. Today, Buchanan's whisky is established as a whisky of exceptional quality and is backed by a strong tradition of excellence.
Who owns Buchanan's Whisky?
The Buchanan's whisky business is owned by Diageo PLC, a British multinational beverage company. They have their headquarters in London and run their beverage business in more than 180 countries.
Diageo was the world's largest distiller until China's Kweichow Moutai overtook it in April 2017.
What is Buchanan's Whisky Made From?
The Buchanan's scotch blends use only natural ingredients: yeast, grain, malted barley, and water.
Where is Buchanan's Whisky Made?
The Buchanan's whiskies are produced in Scotland.
Buchanan's Whisky Prices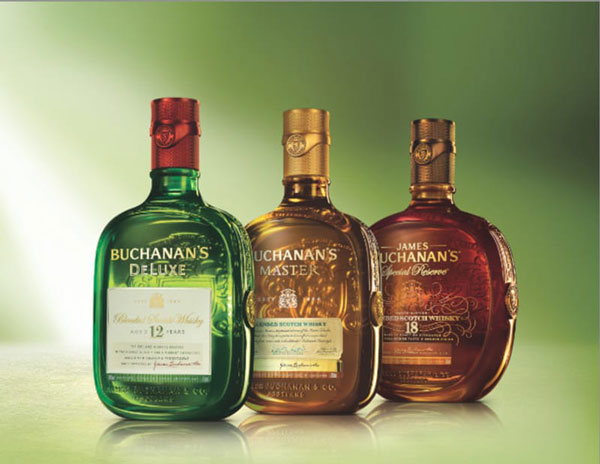 | | | |
| --- | --- | --- |
| | | |
| | | |
| | | |
| | | |
| Buchanan's Deluxe Blended Scotch Whisky | | |
| Buchanan's Master Blended Scotch Whisky | | |
| Buchanan's Blended Scotch Whisky | | |
| Buchanan's Deluxe Scotch Whisky | | |
| | | |
| | | |
The Buchanan's whisky family comes with 10 variations with little differences in prices on some of their bottles. Only two variants, versions aged 18 years and 21 years, have significantly higher prices, followed by Buchanan's Blended Scotch Whisky and Buchanan's Deluxe Blended Scotch Whisky.
Let's have a look at some of them to give you the best price options.
Buchanan's 21 Whisky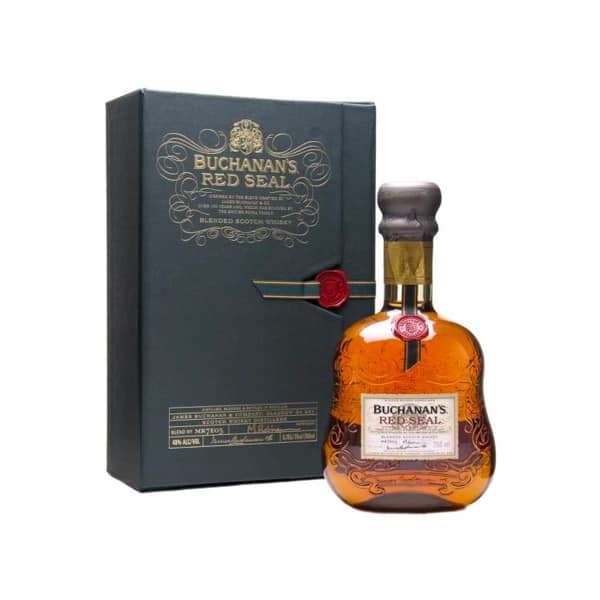 The Buchanan's Red Seal scotch is the company's ultra-premium version aged 21 years. It is believed that this version is a recreation of the 1901 version which James himself created in that year. James created this version to celebrate the coronation of King Edward VII. That's why it has a red seal.
There are significant differences when you see prices in different places in the world for this blend. It goes as low as $134, particularly in Connecticut, and it goes up to $200 in places like California.
Buchanan's Whisky 18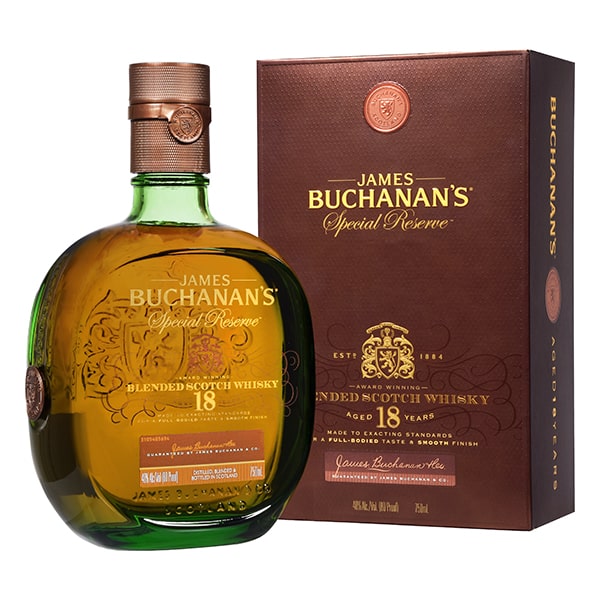 This premium 18-yr old whisky is recognized for its smooth and distinguished flavor. As you pour yourself a glass of this whisky, what you will quickly notice is its rich amber hue. Once you take the first sip, your palate will meet sweet tastes of orange and plum.
As with the Red Seal, prices for this version vary across the United States. What is written on the table is the average price, but if you're lucky enough and patient enough searching for the lowest prices, one of the places to recommend is New Jersey where some shops sell it for only about $59. Another place would be Connecticut where it is sold by merchants for only $60. The standard delivery time is 1 week.
The highest price that we know of for this whisky is $130, which is the price that you may find if you shop in Washington DC for a 750-ml bottle.
Buchanan's Blended Scotch Whisky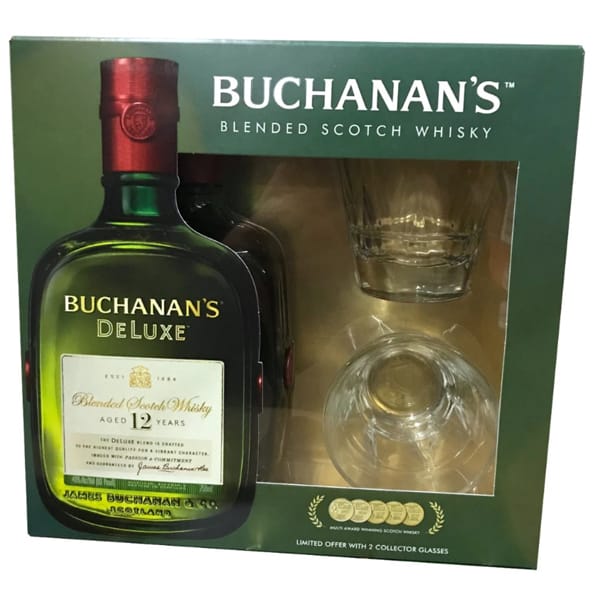 Sweet and creamy with orange and vanilla notes, this blend of whisky will give you a tingle on your tongue that will be followed by a taste of nuts and a dry finish.
Prices for this whisky also vary. Most liquor shops offer it at $49.99, but we found some merchants at a discounted price, which means you can purchase it at a price as low as $31.
Buchanan's Deluxe Scotch Whisky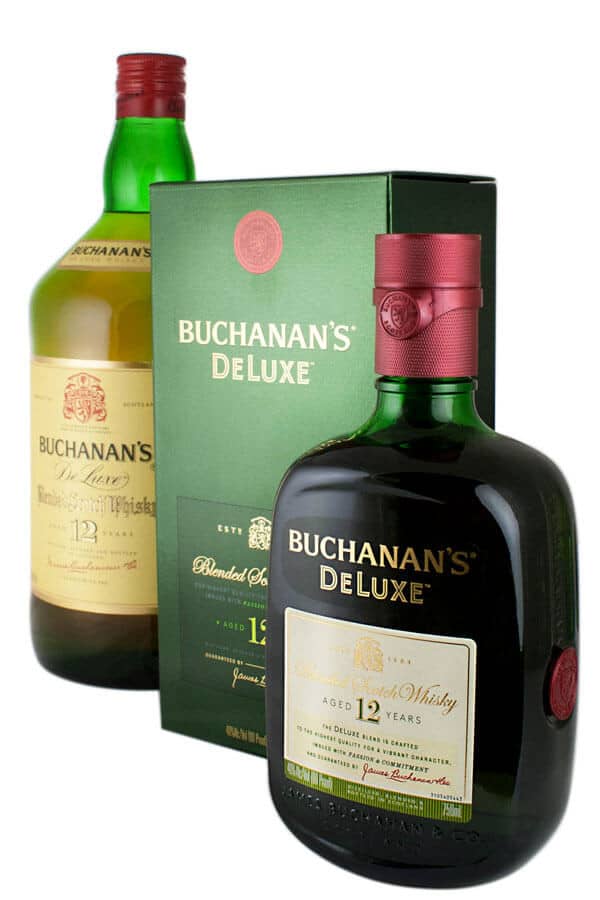 Buchanan's Deluxe prices are quite similar from shop to shop. There are little variations and we found some online shops offering it a slightly lower price compared to what is on the table. The lower prices we found online are more or less $32 for a 750-ml bottle, so that's about $7 less than the average.
Buchanan's Deluxe Scotch Whisky is a blend of the finest malt scotch whiskies in Scotland. This particular version from the company is something really loved by Latino and Hispanic drinkers.
Buchanan's Whisky Reviews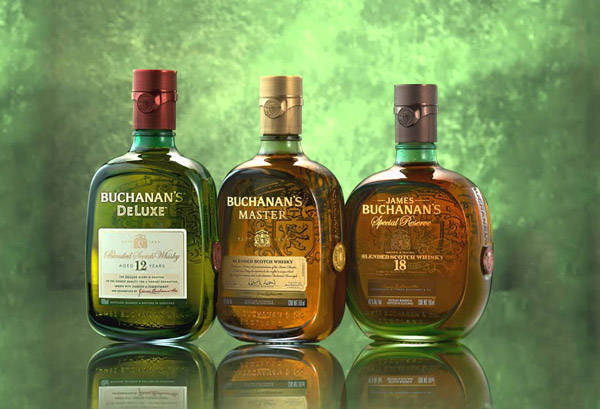 There are positive comments for the range of whiskies in the arsenal of James Buchanan, but there are reviews as well that specify what they don't like with these whiskies and some come with suggestions for improvement.
One reviewer who rated the Buchanan 12 version gave the whisky a score of 4.3 out of the perfect score of 5. He said that, since this is a Diageo product, he expected a caramel color and chill-filtration in the processing and he didn't expect a single malt high proof kind of mouth explosion.
The reviewer also reminded drinkers that the Diageo blends are purposely designed to be easy drinks and as smooth as possible, and he thought that in this aspect, the company has nailed it and has been producing whiskies in the level of Johnnie Walker Gold and Platinum Labels.
One negative thing he mentioned about the 12 version and the Master versions is that the peat tones are a bit more subdued. He had also tried the 18 version and said that the peat tone in it yields to its sweet flavor. He added that there is no lingering finish that many people want with their whiskies.
Another reviewer comes with the same note. He said that the whisky is a good blend but prefers something a little bolder and with a finish that doesn't disappear immediately. This reviewer also said that the quality and flavor profile is akin to the Johnnie Walker Gold.
Common Buchanan's Whisky Recipes: What To Mix With Buchanan's Whisky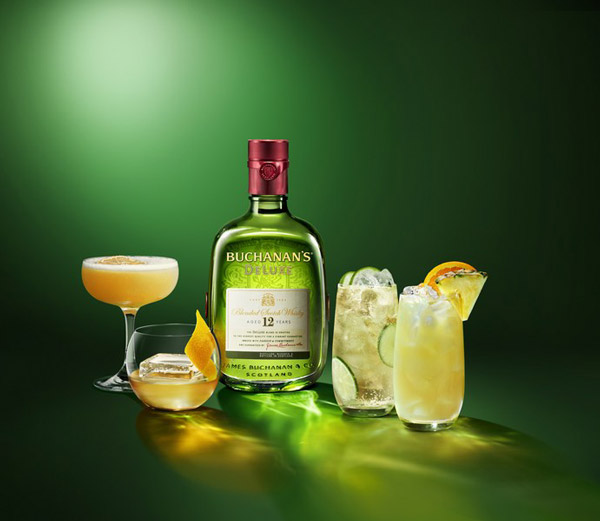 Two simple recipes you can try using Buchanan's Whisky:
Buchanan Aguila – Grapefruit soda adds a sweet tang to this whisky drink. Just mix the two – 1 ounce of the soda to add to 1 1/2 ounces of the whisky. Serve over ice.
Buchanan's Negra – The amounts stated above also apply in this recipe. It's only that you add cola instead of the grapefruit soda above. Let the party begin.
Final Thoughts
Buchanan's whiskies are sold at affordable prices for the regular whisky drinker. Do a little more research when trying to purchase as prices can vary significantly or read reviews to find the best variation to suit your taste.
There are a few questions you might want to explore, such as why Mexicans love the Buchanan range of whiskies and what are other cocktails you can make with these whiskies. The Buchanan website features some delicious recipes in one of their online pages if you want to check that out.