One of the most popular Scotch Whiskey brands is Johnnie Walker. It has massive loyal patrons from around the globe. It has been dominating the market for almost two centuries.
It currently offers five varieties, including Blue and Black. The Johnnie Walker Blue Label is more mature and has a smoother and richer blend than the Black label. It debuted in 1992 and has been known for its trademark "Rare and Exclusive." It's handcrafted and has a tinge of sweetness with several layers of flavors.
The Johnnie Walker Black Label was made available in 1870 and came with the "Hidden Depths" trademark. It's the current leading deluxe whiskey brand worldwide. It's a smooth blend with the richness of over 40 of the best whiskies in Scotland. It can be consumed as a long drink with ginger ale, soda, water, or raw.
Johnnie Walker Blue vs. Black Price
The Johnnie Walker Blue Label is the most expensive among the brand's blended whisky lineup. The estimated price for 700 ml of the Blue Johnnie Walker is $180, while the same size of Johnnie Walker Black costs $35.
Johnnie Walker Blue vs. Black: Alcohol Content
Johnnie Walker Blue is not single-malt but a blended Scotch. It's low-proof and has 40 percent alcohol by volume (ABV).
On the other hand, Johnnie Walker Black has 80 percent proof and 40 percent ABV. It's an elegant scotch with a nice balance of peat and sweetness.
Johnnie Walker Blue vs. Black: What are They Made of?
Johnnie Walker Blue is the perfect combination of bold and mellow. This prime whisky is perfectly engineered and tagged as an unrivaled masterpiece. It's an excellent blend of Scotland's most exceptional and rarest whiskies.
Meanwhile, the Johnnie Walker Black Label is made of grain whiskies and around 40 single-malt. All its ingredients have gone through at least 12 years of aging. It was first created in 1820 in Scotland and was relaunched in 1909.
Johnnie Walker Blue vs. Black: Taste
The Blue label tastes like oranges, sherry, honey, and hazelnuts at first. It will then release the hidden flavors of dark chocolate, sandalwood, kumquats, and ginger. Its smooth finish of a soft smoke balanced to perfection will linger. It has the richness and sweetness of honey with hints of dried fruits and pepper.
On the other hand, the Black Label has complex, rich, and intense flavors with full-bodied scents, including smokey, spicy, fruity, and a bit of vanilla. It offers a rich finish and tastes medium sweet with a little peat.
Johnnie Walker Blue vs. Double Black
Johnnie Walker Blue is a premium and exceptional liquid. It's a blend of the sweetness of raisins and a dry smokiness. It feels velvety to the mouth, and you'll experience a flavor explosion upon your first sip.
On the other hand, the Johnnie Walker Double Black has the signature flavors and aromas of the classic Black label. It has peat smoke and full-bodied aromas. It has an intense flavor with a rich and dark character. This is preferred by those who love the Black label but are after a stronger status and taste.
Johnnie Walker Blue vs. Black: Quick Comparison
| | | |
| --- | --- | --- |
| | | |
| | A blend of the rarest whiskies/Scotland | Grain whiskies and 40 single malt/Scotland |
| | | Stronger and less refined |
| | | |
| | Malt, oak, smoke, and peat | Toffee and winter spice,with Christmas pudding, red berries, and smoke |
| | $180 (700 mI) - more expensive | |
| | | |
| | Medium Iength with notes of oak, caramels,nutmeg, and pepper | Long with a balanced warming pepper spice,vanilla,citrus peel,and fruity sweetness |
| | | |
| | Light blue cheese, tiramisu, roast beef | Roasted pork and a platter of cheese |
Final Verdict – Johnnie Walker Blue vs. Black: Which is Better?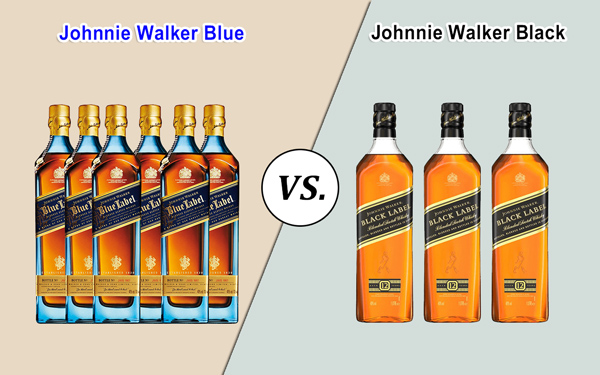 The Blue label is a clear winner, but both labels exude the richness and intense flavors from the famous Johnnie Walker brand.
Johnnie Walker Blue is a premium brand with an explosion of flavors. It's more expensive than the Black label, considered a classic in the whiskey industry.
You can enjoy both and serve them as drinks in gatherings or sip a glass or two whenever you feel like rewarding yourself, or you want to unwind and relax.