At a Glance:
Malibu Rum is sunshine in a glass with its smooth, refreshing flavors.
Malibu is the people's choice of coconut-infused Caribbean rem around the globe.
The average price in a 1-liter bottle is $20; a 250 ml bottle costs around $2.45.
Whether you're remaking a traditional or classic, inventing your own beverage of preference, or looking forward to ordering it for your next social gatherings, Malibu rum brings richness, complexity, with coconut flavor of the tropics to your blended cocktails. Malibu rum is a timeless, flexible preference guaranteed to impress all sorts of cocktail lovers.
Malibu Rum Prices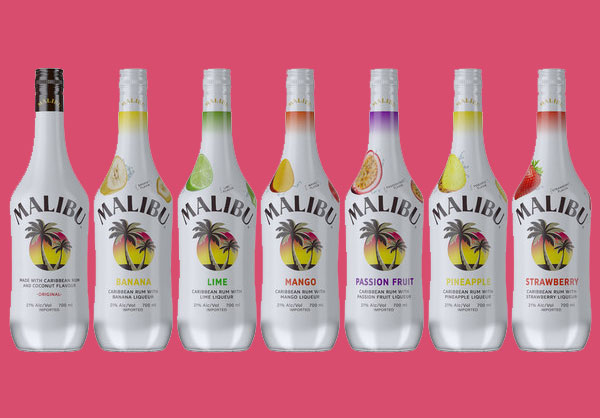 Below is the list of prices across the globe.
Malibu Rum Original with Coconut

Malibu Rum Tropical Banana
Malibu Rum Original
Malibu Original has the mellow aroma of coconut. It has a smooth yet refreshing taste. It has real coconut flakes inside, creating a different and a whole storm of Caribbean vibe. The flakes are intrinsically intended to dissolve upon taking it in your mouth. It has a surprisingly pleasant after taste, which doesn't give the presumed "burn."
Malibu Mango
Mango, being one of the most popular flavors worldwide, goes perfectly with the Caribbean coconut flavor. Malibu mango has a tasty but easy and smooth finish. The alcohol content is low that you will enjoy the drink without getting too plastered.
Malibu Passion Fruits
Exotic. Malibu Passion fruit has a rich passion fruit aroma with a tinge of guava. The liquid has a sweet tinge and with a rich passion and tropical scent.
The drink is best paired with lime-lemon, cranberry juice, and pineapple.
Malibu Pineapple
Malibu Pineapple is a brilliant blend of the Caribbean's original taste of coconut with a combination of pineapple. It pairs well with pineapple and orange juice and allows for a nice laid-back day.
Malibu Strawberry
Taste your favorite berry of the season with the newest introduction of flavor to the Malibu rum. It has a buzzing, pleasant, and mellow strawberry taste. Blend with a refreshing splash of soda for a new tasty summer drink!
Malibu Tropical Banana
Malibu Banana is the combination of the liqueur's original flavor and the easy banana tinge. The smooth and creamy yet balanced flavorings of these favorite tropical fruit bringing you the Caribbean vibe anytime, anywhere.
Malibu Black
Malibu black is Malibu's version with more proof and less pleasantness, perfect for cocktail lovers of the bolder or stronger palate. It boasts the taste of the freshly plucked coconuts, vanilla, hints of the Caribbean rum, and warm caramel.
Malibu Red
Malibu features a fusion of Mexican tequila and Caribbean rum, bringing you the vibe of hot red summer nights. It contains a smooth 70 alcohol content by the Award-winning songwriter, actor, and singer Neyo.
How Much Does Malibu in Tin Cans Cost?
Apart from those appealing bottles, Malibu Rum has released premixed cocktails in cans. Inside the portable and affordable aluminum cans are refreshing ready-to-drink concoctions. These slim 250ml aluminum cans are available in various fizzing flavors such as Lime, Passion Fruit, Pineapple, etc.
What is more? They can be purchased in 4 and assorted 8-packs internationally. To get extra familiarized with this happiness in a can, check the table below.
| | | |
| --- | --- | --- |
| | | |
| | | |
| Malibu Fizzy Pink Lemonade | | |
| | | |
| | | |
Prices Compared to Other Rum Brands
Here are the famous rum brands available in the market and their comparison of prices to Malibu Rum.
Captain Morgan is so much like Kraken and Bacardi when we talk about prices. The average price of this popular brand per 750 ml is between $17 and $19. These three products are affordable as a result; when deciding, prices would not be a serious consideration. Your choice depends on your inclination for alcohol content, flavors, and so on.
Bacardi is one of the top-selling rums across the globe. Founded in 1862 in Cuba, Bacardi is one of the favorite cocktails among celebrities for parties or celebrations. Surprisingly, the product is identical to Malibu rum. You don't have to get worried about the price, for they are pretty much the same. You may start weighing both product's available flavors, quality of ingredients, alcohol content, and the cocktail you want to create.
Parrot Bay Rum
Let Parrot Bay, yet another Caribbean rum, sweep you out of your senses and take you to a Caribbean paradise. Same as with Malibu rum, the tropical coconut flavor is light and subtle. So, when thinking about what to order for your next vacation or party, check the prices. The Parrot Bay rum (750ml) is around $10.99 to $11.99, while Malibu rum has a cost of around $15.42 to $17.19.
This spiced rum, Sailor Jerry, was intrinsically developed after an in-depth exploration of maritime rums. It shows off a rich, natural tastiness of cinnamon and vanilla.
Malibu rum and Sailor Jerry have two different distinctive spices. The taste is a great factor when choosing what to add to your cocktail. One thing you also would want to take into account is the price. The latter costs about $18.99 to 21.99 per 750 ml, while Malibu Rum is around $15.42 to $17.19. Not a very big difference, though.
Originating from Tobago and Trinidad, this decade brand is popular for its tempting dark as well as spiced spirit. Its name is derived from the mythological sea monster.
According to the market place, Kraken rum costs from $18.99 to $20 for a 250 ml bottle. Apart from the different excellent packaging of the two rum brands (Malibu and Kraken), keep an eye for the cost and flavor which have quite a variance.
Everything You Need to Know About Malibu Rum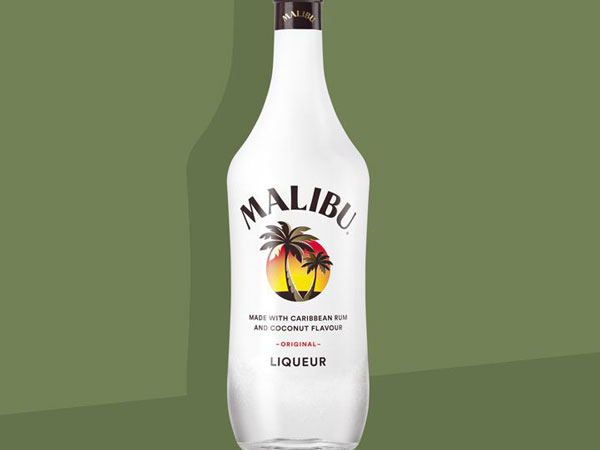 Called by Pernod Ricard, the creator, as the "flavored rum," the Malibu Rum brand is originally a coconut-infused liqueur. The special coconut tinge came all the way from Curaçao, an island located in the Southern Caribbean Sea.
This is globally the best-selling Caribbean rum until the present. According to the owner, they were able to supply 3.8 million cases (9-liter) across the globe throughout 2019. Pernod revealed that their top 5 main markets are Canada, the United Kingdom, Germany, the United States, and France.
This coconut spirit, since the 1980's-era, is being distilled at West Indies Rum Distillery Ltd. located in Barbados.
This eye-catching bottle of liqueur is distilled from molasses, a reason for its sweet-tasting buzz. Apart from water, flavoring, which is coconut extract and alcohol, are added. Below is the nutritional value per 100ml to get familiarized with the components of Malibu rum.
| | |
| --- | --- |
| Alcohol content (gr alcohol) | |
| | |
| | |
| | |
| | |
Who Is the Owner of Malibu Rum?
Paul Louis Marius Ricard is the person behind the company Pernod Ricard. He was an entrepreneur based in France and founder of the titular Pastis company, which partnered with its rival Pernod in 1975, creating Pernod Ricard. He's also an environmental activist, and he developed the two Mediterranean islands situated in the Southeast of France. Additionally, he also built Paul Ricard Circuit, a motorsport race track based in Le Castellet, France.
In 1982, this spirit in the bottle was created from fruit spirits, laced with liqueur and coconut.
There are several interesting variations of Malibu rum at present. They're flavored with assorted tropical fruits, namely banana, passion fruit pineapple, lime, mango, and island melon. Additionally, there's a mix of mint – Malibu Fresh, a blend of Tequila-Malibu Red, and a double-strong variant – and Malibu Black consisting of 35% rum-based spirit.
Malibu rum has an alcohol content or ABV of 21%. Since it's a part of the regulation that rum considered as a spirit has to be distilled, having at least 80 proof and above. And Malibu rum, being 21% in ABV or 42 proof, makes it fall under the liqueur category.
Is Malibu Rum Gluten-Free?
Happily, Malibu rum is gluten-free. It can be relished even by those who have celiac and those who are sensitive towards gluten alike. During the distillation period, the cereal proteins from certain ingredients are being eliminated. Consequently, distilled drinks are basically gluten-free. But, regardless of this statement, it's wise to always seek medical help from your dietetic advisor or doctor.
How Many Carbohydrates Are There in Malibu Rum?
The classic flavored bottle of rum contains 18.1g of carbohydrates. Consequently, if you're going to consume 30 ml of rum, which is the serving suggestion, you will consume 5.4g. While in a 50 ml rum, you will consume 9 grams of carbs.
The pineapple and fruit-flavored rum have 12 grams of carbs per 100 ml. In comparison, Malibu Black has 10.4, Malibu Pina Colada 15 grams of carbohydrates present in both 100 ml bottles.
How Many Calories Are There in Malibu Rum?
Every 100 ml Malibu original having a 21% Alcohol Volume, has 188Kcal, while Malibu original of 18% Alcohol Volume has 171Kcal. Likewise, Malibu Lime and Passion Fruit of 21 percent Alcohol Volume has 163 Kcal, the Malibu Pineapple of 10% Alcohol Volume has 167Kcal, and Malibu Black of 35% Alcohol Volume has 237Kcal.
Malibu Rum Nutritional Facts
The Malibu Rum has a mixture of liqueur out of the coconuts plucked all the way from the Caribbean. Whereas it's not a pure rum, or under the category of rum as the proof is below 80, it contains more calories than regular rum-based drinks. Thankfully, all of the Malibu products don't have any allergens. To further know the nutritional value of this "Sunshine in a bottle or can", check the tables below.
Malibu Original 21% ABV
| | | | |
| --- | --- | --- | --- |
| Alcohol content (gr alcohol) | | | |
| | | | |
| | | | |
| | | | |
| | | | |
| | | | |
| | | | |
| --- | --- | --- | --- |
| Alcohol content (gr alcohol) | | | |
| | | | |
| | | | |
| | | | |
| | | | |
| | | | |
| | | | |
| --- | --- | --- | --- |
| Alcohol content (gr alcohol) | | | |
| | | | |
| | | | |
| | | | |
| | | | |
| | | | |
| | | | |
| --- | --- | --- | --- |
| Alcohol content (gr alcohol) | | | |
| | | | |
| | | | |
| | | | |
| | | | |
| | | | |
Malibu Passion Fruit 21% ABV
| | | | |
| --- | --- | --- | --- |
| Alcohol content (gr alcohol) | | | |
| | | | |
| | | | |
| | | | |
| | | | |
| | | | |
Malibu Pina Colada 5% ABV
| | | |
| --- | --- | --- |
| Alcohol content (gr alcohol) | | |
| | | |
| | | |
| | | |
| | | |
| | | |
Malibu Fizzy Pink Lemonade 5% ABV
| | | |
| --- | --- | --- |
| Alcohol content (gr alcohol) | | |
| | | |
| | | |
| | | |
| | | |
| | | |
Common Recipes: What Can You Mix with Malibu Rum?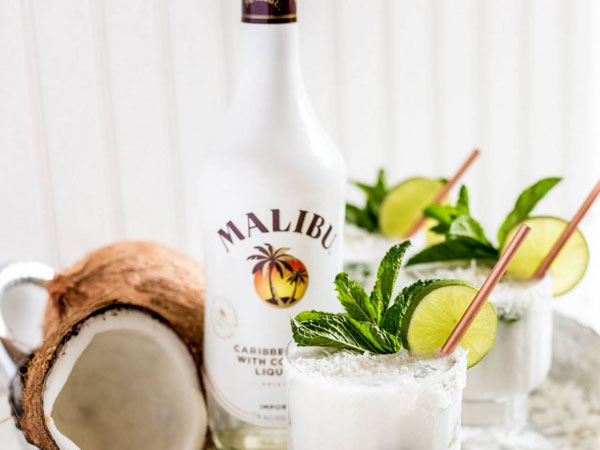 The sky is the limit when creating tasty cocktails with Malibu liqueur. It brings sweet taste, sophistication, and a tropical coconut flavor to your cocktails. The key is to know what tastes perfect with Caribbean rum and its various flavors.
This a timeless, flexible selection, which guarantees to appease all cocktail enthusiasts. Follow these recipes below to get the most out of Malibu Rum.
Malibu Sunset
Instructions:
Prepare your highball glass, Malibu rum, ice cubes, grenadine, and garnishes.

First, place some ice into your glass and gently pour the liqueur according to your preference.

Second, slowly pour the grenadine syrup slowly from the side of the glass to achieve the separated components of the cocktail.

Then, slowly tilt the highball glass to carefully pour the pineapple to create the layering sunset, as shown in the picture.

Finish the cocktail by topping it with a pineapple chunk and 2 cherries on a toothpick.

You may savor the refreshing drink that you just created with your friends immediately.
Refreshing Malibu Basil Mojito
Instructions:
Prepare the utensils and ingredients needed.

Then, combine the basil leaves and simple syrup in a Cocktail shaker.

After that, add in the pineapple juice, fresh lemon juice, and Malibu rum with some ice. Shake well.

Chill the mixture for 30 minutes.

Afterward, carefully pour the blended mixture into a Collin's glass filled with ice.

Then, top your glass with Club soda. Give your drink a stir.

Finally, finish your drink with a pineapple wedge and/or maraschino cherry beautifully.

Serve your guests or yourself with a smile!
Conclusion
Malibu rum is a coconut-infused liqueur, particularly from the Island of Curaçao, located in the southern part of the Caribbean Sea. It gives you a balanced, intricate, familiar, and alluring Caribbean vibe wherever you are as it boasts of its classic coconut and assorted tropical fruit flavors.
Pernod Ricard's sunshine in a bottle or sunshine in a can is quite distinctive and intriguing compared to other liqueurs for a couple of reasons. First, the creator calls it the "flavored rum" while it doesn't pass the standard proof or ABV of the rum. Second, the passion fruit flavor was infused all the way from Canada. Last, it was named after a town in California instead of a town in the Caribbean.
Hmm… Feel free to answer those as you relish the smooth and interesting cocktail.