Quick Summary:
Aside from providing excellent tasting vodka, Skyy Vodka supports progressive ideas and fights for equality in society.
Despite being relatively new in the liquor industry, Skyy Vodka has already established itself as one of the major brands on the market.
Skyy Vodka has proven that top-notch quality is not always synonymous to expensive, offering superior quality vodka at budget prices.
Introduction to Skyy Vodka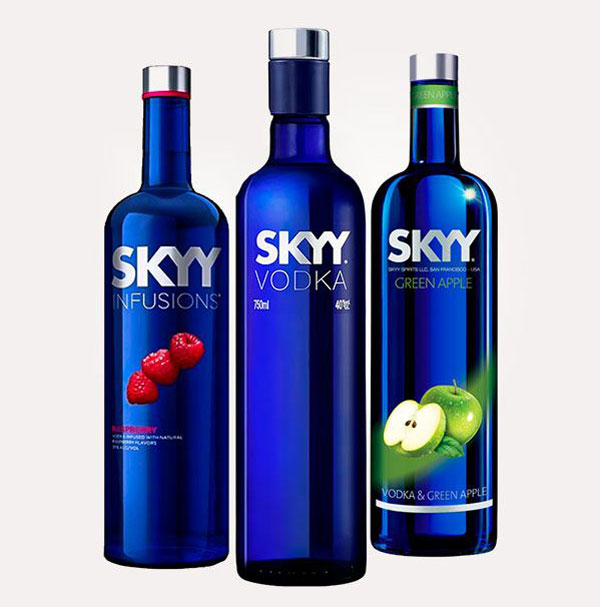 What Is Skyy Vodka?
Skyy Vodka is relatively new in the liquor industry; but this does not change the fact that it is a top market player in the business. The Skyy Infusions line offers a wide variety of "true to fruit" flavors that keeps customers going back for more.
The superior taste is due to its advanced production process. Skyy Vodka has also bagged a number of medals at the San Francisco World Spirits Competition.
Who Owns Skyy Vodka?
In 1992, a small start-up company in San Francisco decided to make premium vodka. Maurice Kanbar, inventor and Skyy Vodka creator, set up the product to be congener free. Without the presence of congener, consumers can enjoy a smooth-tasting delightful alcoholic beverage.
By 2006, it was passed on to Gruppo Campari where it is now part of a well-known roster that includes Campari, Wild Turkey Straight Kentucky Bourbon, and Cynar, among others.
What Is Skyy Vodka Made From?
Skyy Vodka is proudly American! Made from water and grains in the US, its story started with the purpose to make the perfect martini. Their quadruple distillation and triple filter system is a huge factor since it shows how meticulous and innovative a process the vodka goes through to provide excellence for patrons.
On the one hand, the quadruple column distillation's main objective is to reach the Skyy Grade level of impurity extraction, while the triple filtration system brings out that nice citrus smell that stays even after 20 years.
Is Skyy Vodka Gluten-Free?
Skyy Vodka has sparked a lot of arguments on whether it is gluten-free or not. Since the source ingredient is wheat, it could mean that it is not at all gluten-free.
However, the product undergoes a thorough distillation process, which may eliminate gluten proteins from the liquor. Even though this is the case, the law in the US and other countries prohibit advertising cereal-based products as gluten-free.
What Is the Proof of Skyy Vodka?
Proof is an indication of the amount of ethanol contained in an alcoholic beverage. Skyy Vodka proof ranges from 70 to 80. It is important to know the proof so you can be aware of how much alcohol content you should drink in order to avoid health risks.
Skyy Vodka Prices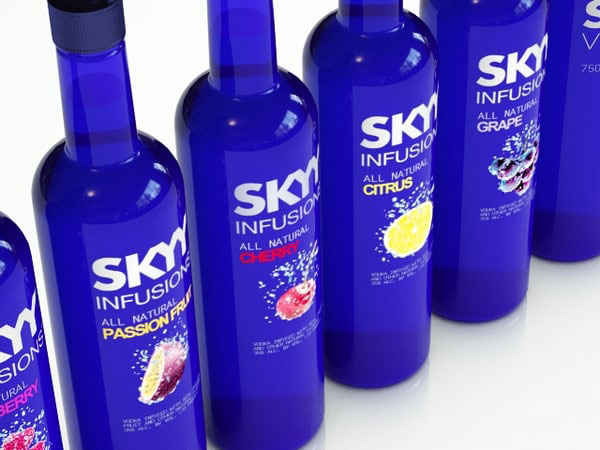 Affordable Quality
Skyy Vodka is one of the most popular brands worldwide. Despite the tremendous popularity it is enjoying, however, it still remains as very budget friendly. This only goes to show that quality and taste do not always equate to a high price tag.
Highly Acclaimed Vodka
The award-winning spirit line presents itself as a serious competitor in international competitions, and rightfully so. Its premium taste and quality have earned accolades and awards for the company.
Below is a table of the recent Prices of Skyy Vodka:
Skyy Infusions Wild Strawberry

Skyy Infusions Moscato Grape

Skyy Infusions Passion Fruit

Skyy Infusions Blood Orange

Skyy Infusions Moscato Grape

Skyy Infusions Dragon Fruit

Skyy Infusions Georgia Peach
Skyy Vodka Prices vs. Competitors
You have probably heard the line that goes: "you get whatever you pay for". Well, this also applies when comparing vodka prices – in general. When compared to other brands in its class, Skyy Vodka definitely hold its own when it comes to pricing.
A 1-liter bottle of Skyy Vodka costs under $20. While there are cheaper options, these lesser-known brands are not of the same quality and are therefore less desirable to use. On the other hand, brands of the same quality as Skyy Vodka like Stolichnaya, Svedka, and Tito's Handmade Vodka – all cost more at over $20 per 1L bottle.
You would agree that spending over $20 for a liter of high quality vodka is a waste of money, considering that you can get the same quality from Skyy Vodka at a more affordable price.
Skyy Vodka Infusions
Skyy Infusions brings a unique flair to the vodka drinking experience. This is the new addition designed to tickle your taste buds with many assorted flavors. The line-up comprises of pineapple, wild strawberry, raspberry, Georgia peach, cherry, blood orange, citrus, Moscato grape, dragon fruit, and passion fruit.
How Many Calories Are in Skyy Vodka?
Compared to wine and beer, vodka is deemed to have a lower calorie count. Vodka with higher proof has much more alcohol content, and contains more calories.
Skyy Vodka may contain 85 to 96 calories in a 1.5-ounce shot. Skyy Infusions can be enjoyed without mixing high-calorie mixers such as orange or cranberry juice. It is quite delectable all on its own. What is more awesome is that Skyy Infusions does not contain more calories for the flavor. It is just plain vodka.
Common Mixed Drink Recipes: What to Mix with Skyy Vodka?
Sweet Cajun
How to Make It:
Gather all ingredients.

Muddle blackberries.

Fill glass with crushed ice.

Mix 2 oz Skyy Vodka, 0.75 oz Fresh Lime Juice, 0.75 oz Simple Syrup into glass.

Add blackberries for garnish.

Serve and enjoy!
Cabana Life
How to Make It:
Gather all ingredients.

Muddle Mint Sprig and Sugar Cube and build in Collins glass.

Fill glass with crushed ice.

Mix 2 oz Skyy Infusions Raspberry, 1 oz Fresh Lime Juice and 0.75 Simple Syrup into glass

Add Mint Sprig for garnish.

Serve and enjoy!
Molly Brown
How to Make It:
Gather all ingredients.

Muddle Lemon and Tarragon, shake, then pour in glass.

Fill glass with cubed ice.

Mix 2 oz Skyy Vodka, 1.5 oz Fresh Apple Juice, 0.5 oz Fresh Lemon Juice, 0.5 oz Simple Syrup, and 1 Dash of Orange Bitters into glass.

Add Mandarined Mini-Apple Disk and Tarragon Sprigs as garnish in the center.

Serve and enjoy!
Conclusion
Skyy Vodka offers a premium service for vodka and martini enthusiasts all over the world. The pocket-friendly and top-quality alcoholic beverage brings life to the party with its signature lineup of Skyy Infusions that can satisfy everyone's taste preferences.
If calories are your problem, try the Skyy Infusions! It provides exquisite flavors even without the calorie-filled mixers. This is the vodka revolution.