A growing trend among cocktail bars around the world, cognacs contain a mix of aromatic senses of floral, fruity, and even spicy. You don't have to be rich and famous and deprive yourself of grabbing a bottle of nice cognac. Just like any other brand, Rémy Martin is versatile enough to be paired with during, pre or post-meal that could further elevate a person's dining experience.

Introduction to Rémy Martin Brandy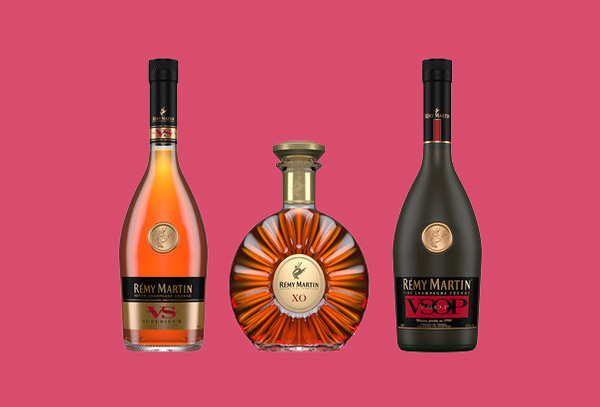 Exclusively grown in France, cognacs are known for their grape's fruity aromas used in creating rich and high-quality spirits. Distillation methods are done traditionally, selecting only the best Eaux-de-vie grapes before undergoing a long aging process to produce intensely aromatic cognacs.
Brief History of Rémy Martin
Founded in 1724, Rémy Martin took its name from the owner himself. It is often linked with luxury and sophistication. It sets the bar up high by taking over the global market with its multi skyrocketing sales. Producing its first-ever bottle in less than a hundred years and receiving recognition from King Louis XV of France, there's no wonder it is considered as one of the oldest and biggest cognac brands in the world.
Being the only Cognac house founded by a winemaker, it takes pride in producing grapes from two top wine-growing Cognac regions of France: Petite Champagne and Grande Champagne. What sets Rémy Martin apart from the other "big four" Cognac houses is that it is not only aged at the standard of 6 years, but instead for lengthy periods of 10 to 37 years. Experience how wonderful it would be to take a sip of this 300-year old work of art.
Cognac vs. Brandy
Just as whisky is likened to Scotch, the same goes for cognac and brandy. With that being said, cognac is a certain kind of brandy made from white grapes coming from the Cognac regions of France, whilst brandy, on the other hand, comes from FFJ or fermented fruit juices like grapes and other fruit variants mixed.
Rémy Martin Prices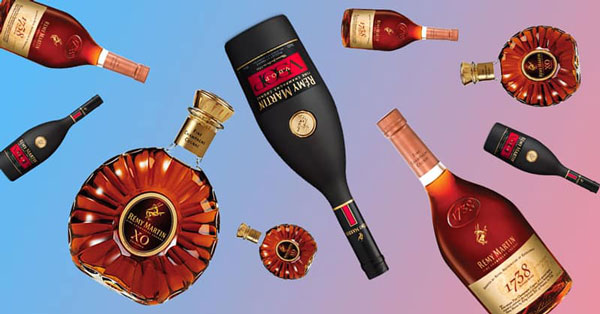 As cognacs are starting to invade the cocktail scene with exports growing yearly, you may already be familiar with the top four cognacs namely the Courvoisier, Martell, Rémy Martin, and the most famous Hennessy. The starting price for a bottle of Rémy Martin V is around $39.99 followed by bottles aged and processed longer, like the Rémy Martin XO reaching up to $180.
The Rémy Martin Louis XIII, by its name, is the most expensive with a bottle selling as high as $100,000. Sure, you may think that they are a little over your budget, think again but believe it or not, Rémy Martin 1738 Accord Royal is listed as one of the more affordable ones. Don't be fooled by its name, not only may it sound a bit royal but you'll surely feel like one. These prices come from the fact that each of these French grapes is of exceptional quality and that they undergo a rigorous meticulous process.
Rémy Martin Prices List
Remy Martin VSOP (Very Superior Old Pale)

Remy Martin XO Excellence

Remy Martin 1738 Accord Royal
Remy Martin Prices Compared to Other Brandy Brands
Remy and Hennessy are two of the biggest cognac brands fighting head to head for the top spot, but Hennessy still manages to rank first in terms of quantity. It has constantly increased its sales each year. Both having an ABV, or alcohol by volume, of 40% despite Remy tasting more fruity and spicy. A 750ml bottle of Hennessy VS of the same volume is priced similar to Remy Martin VS.
Placed last among the "big four" and considered as having a more flowery and fruity taste, Courvoisier is for the luxurious cognac drinkers, while Remy is for those who are fairly new to cognac. A bottle of Courvoisier is priced higher than a Remy Martin VSOP of the same volume.
Cheaper than most cognac brands like Remy Martin, Paul Masson VSOP is priced around $13.99, but do note that some people would prefer the taste to the former.
Being newer to the scene, E&J offers a wide variety of brandy choices from VS (Very Special), VSOP (Very Superior Old Pale) up to XO (Extra Old). A 375ml Rémy Martin VSOP is priced at an average of $48 which is almost double the price of a 750ml VSOP bottle of E&J.
Martell Cognac
A light flavor spirit admired for its fruity and sweet taste and the oldest among the "big four", an average bottle of Martell VSOP and Rémy Martin VSOP are of the same range of price.
Common Recipes: What To Mix With Rémy Martin?
French Mojito
Instructions:
Put all ingredients in a shaker over cubed ice.

Lightly press mint leaves by hand, up to 10 leaves will often do, to release its aromatic and essential oils.

Shake for at least 10 seconds before pouring into a tall or highball glass.
Royal Sidecar
Instructions:
Widely celebrated as a popular cognac cocktail, this drink is easy to make with just only 3 ingredients.

In an ice-filled shaker, combine all ingredients. Shake well before straining it into a chilled coupe glass.

Topping with lemon or orange peel garnish is optional.
Final Thoughts
Being the most versatile among the cognacs, Rémy Martin can easily be paired with food, served on the rocks, or just neat. With a wide variety of flavors to choose from, there is sure to be a cognac to suit your taste. From floral and fruity to sweet and spicy flavors, you can start your cognac journey, and add these drinks to their bucket list.