Patron is one of the most established brands of tequila worldwide. Meanwhile, Casamigos, which Geoge Clooney co-founds, is a relatively new player in the industry.
Casamigos and Patron are both made from the Blue Agave plant. But the main difference is that Patron is produced in Jalisco, Mexico while Casamigos is made in Oaxaca, Mexico. In addition, Patron is slightly more expensive than Casamigos. This is more likely because Patron is the more established brand between the two.
Suppose you are interested in knowing about the real difference between Casamigos and Patron. In that case, you are on the right page. Continue reading below for more valuable information.
Casamigos vs. Patron: Distilled
The Casamigos tequila is twice distilled in copper-lined stills. Before it's distilled, it is fermented between 2 to 8 days, depending on the season.
In contrast, Patron tequila distills their most in small-batch copper pot stills made by Francisco Alcaraz, which is the original master distiller. This allows Patron tequila to have its smooth signature profile.
Casamigos vs. Patron: Alcohol Percentage
Since both Casamigos and Patron are tequila brands, they do not differ much in terms of alcohol content. In fact, both of their Blanco variants are 40% ABV.
Casamigos vs. Patron: Ingredients
The Casamigos use 100% Agave. These are around 7 to 9 years old when harvested. Patron also uses the same ingredient as Casamigos, which is Agave.
Casamigos vs. Patron: Taste
Casamigos take pride in their natural tasting tequila which is the result of using 100% agave plant. Depending on its variant, their tequila can be spicy or sweet.
Patron's most popular variant, Resposado, has a smooth taste with the hind of wood and citrus ginger. They also have a flavored variant, the Patron XO, which tastes like coffee.
Casamigos vs. Patron: Price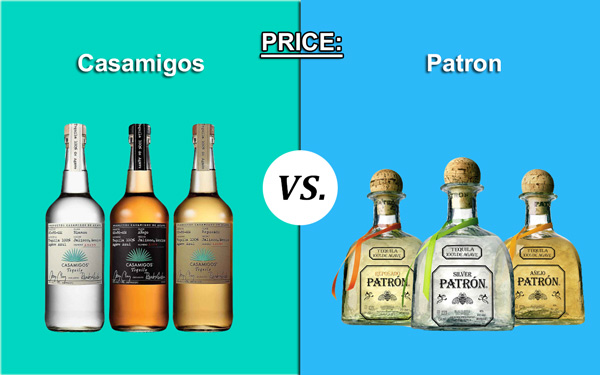 The Casamigos tequila is not really affordable, but it's not that expensive as well. The Casamigos Anejo price can range from $49.99 to $51.999 for a 750 ml bottle. Meanwhile, the 750 ml bottle of their Respossado can cost around $42.99 to $45.99. The Blanco variant is their most affordable option, which is around $39.99 to $41.99.
Patron tequila is only slightly more expensive than Casamigos. Their 750 ml bottle of Anejo can cost between $44.99 to $52.99. Their 750 ml of Reposado costs around $44.99 to $48.99, and the 750 ml bottle of Blanco is around $41.99 to 45.99.
Casamigos vs. Patron: Variants
The Casamigos tequila has 3 main variants; the Añejo, Blanco, and Reposado. Their Anejo Tequila has an excellent balance of sweetness and spiciness. The Blanco has hints of cinnamon and mint flavor with a short finish. Meanwhile, the Resposado has more depth in flavor than the Blanco. It also has a heavy dose of caramel, both in scent and taste.
In terms of variants, Patron offers a wider range of options. Their top sellers are the Anejo, which is aged for 12 months in an oak barrel, and the Silver, made from the best quality Weber Blue Agave.
Casamigos Anejo vs. Patron Anejo
The Casamigos Anejo is light and delicate. It has a good sweet and spicy balance, but the finish can be a little bit too dry.
In contrast, the Patron Anejo is generally described as fresh and clean. It has hints of cinnamon, vanilla, cinnamon, and sandalwood flavor with a touch of Galia melon and zesty lemon.
Casamigos vs. Patron: Which is Better?
If you want a very smooth tequila, then the better choice for you is the Casamigos. However, suppose you prefer a tequila with a deeper flavor and offers a broader range of options. In that case, Patron is probably the best option for you.
Casamigos vs. Patron: Quick Comparison
The Final Verdict
It's pretty difficult to compare the Casamigos and Patron because both brands have their own charms. Casamigos is a relatively new player with a fresher and modern style, while Patron will always be a classic tequila brand.
At the end of the day, it all boils down to personal preference. What is yours? Let us know by leaving a comment below.