Introduction to Jack Daniel's Whiskey
It's plush. It's renowned. In the world of the spirit industry, who wouldn't know Jack Daniel's? As you read through, we're about to embark on more than a century journey of Jack Daniel's.
What is Jack Daniel's?
First made in the 1860s, Jack Daniel's, a Tennessee whiskey, was skillfully crafted by the founder and head distiller named Jack Daniel. Its 150-year-old history developed with a nostalgic root. It all started in Lynchburg, the home of the first Jack Daniel's whiskey.
It could be both luck and a blessing for Jack to work as a distiller near Lynchburg's prized natural resource –Cave Spring Hollow. Cave Spring Hollow is a well-known source of limestone waters that are most suitable for making whiskeys.
To this day, Jack Daniel's is undoubtedly one of the leading Tennessee whiskeys in the United States.
Jack Daniel's is not Bourbon
Is Jack Daniel's bourbon or not? People say it is, but Jack Daniel's says otherwise. They claim it as a Tennessee whiskey.
According to Federal Standards of Identity for Bourbon, a spirit is considered to be bourbon when the mash contains 51% corn or more, while the remaining parts could be from barley, rye, or wheat. Since Bourbon and Jack Daniel's undergo the same process, the latter is often categorized as bourbon. But, what makes Jack Daniel's different? The difference is charcoal.
Jack Daniel's implements a process called "charcoal mellowing", also recognized as the "Lincoln County Process." Here, the whiskey goes through hand-crafted charcoal for 3-5 days to attain its distinct smoothness that other barrels would take years to accomplish.
Who is Jack Daniel?
Jack Daniel is the founder of Jack Daniel's Distillery. His real name is Jasper Newton Daniel, a runaway child who was not on good terms with her stepmother.
In the 1850s, Dan Call, a Lutheran minister, accepted Jack to live and work in his distillery. Reverend Call taught Jack the basics but, the superb skill was all thanks to his friend named "Nearest Green" –an enslaved man who worked under the preacher. It's Nearest Green that truly honed Jack's distillery skills.
When Reverend Call sold his distillery to Jack, it started the humble beginnings of the long-running whiskey company. Jack Daniel appointed Nearest Green as his head distiller. Together, they made names that started with their first Tennessee whiskey called "Old No. 7".
How Did Jack Daniel Die?
People keep their valuables inside a safe. Ironically, Jack's safe didn't bring him much luck as it gradually led him to his death.
We know the sharp feeling when you typed in your password in an account and the screen says it's incorrect. In 1907, as clumsy as it seems, it also happened to Jack where he forgot the password to his safe. Many say he kicked it in anger and suffered an injury that turned to a serious infection. Unfortunately, the great distiller died after 6 years.
Jack Daniel's Whiskey Prices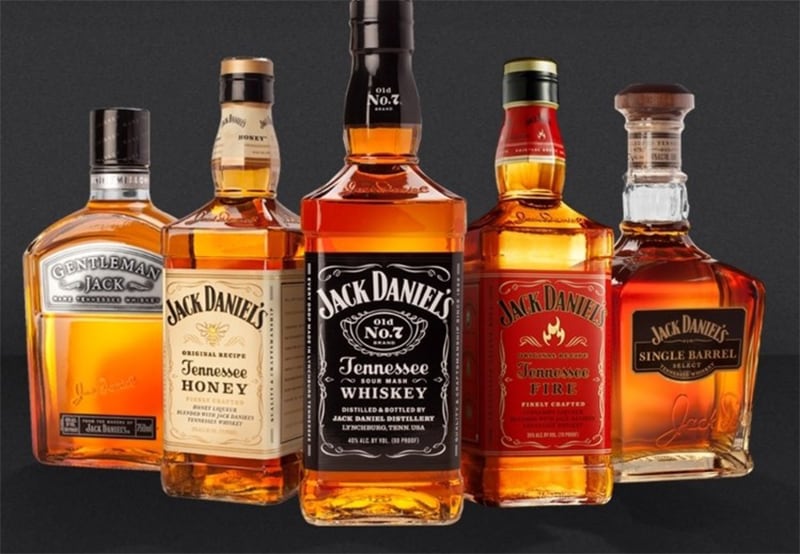 Jack Daniel's prices rest somewhere at the middle point. It's not cheap, but not too expensive either –just the right price for someone asking for a "good" time. A 1.75L Old No. 7 costs around $35 –still quite a gap compared to Smirnoff vodka with an average price of $19 for a 1.75L No. 21.
Jack Daniel's Single Barrel Collection ranges from $46.99-$64.99 for 750ml. It's nearly the price of a 1.75L Gentleman Jack. In that case, you probably have to decide whether you choose quality over quantity or vice versa when buying Jack Daniel's blends.
On the other hand, if you're in tough times and want to drink it out, Jack Daniel's offers 100 and 125 proof spirit. With a $59.99-$69.99 price range, no doubt, it gets the job done.
To further guide you with the current price of Jack Daniel's in 2020, check out the chart below.
Jack Daniel's Whiskey Prices List
Jack Daniel's Old No. 7 Tennessee

Jack Daniel's Single Barrel Rye

Jack Daniel's Single Barrel Select

Jack Daniel's Single Barrel 100 Proof


Jack Daniel's Single Barrel Barrel Proof

Jack Daniel's Gentleman Jack

Jack Daniel's Tennessee Fire

Jack Daniel's Tennessee Honey

Jack Daniel's Tennessee Apple
Comparison to Bourbon Prices
Depending on quality and flavor, Jack Daniel's and Bourbons fluctuate in price. The former's prices are considerable amounting to $2- $65 dollars for 50 ml to 1.75L bottles. On the other hand, bourbons are categorized into two: mass-produced and premium bourbon.
Mass-produced bourbon whiskeys such as Jim Beam, Old Grandad, and Wild Turkey would range from $12 to $18. Premium bourbons such as Woodford Reserve and Blanton's whiskey are contrasting from $30-$60.
Comparison to Other Tennessee Whiskeys
Aside from Jack Daniel's, there are other Tennessee whiskeys that compete in the market. You can also try these Tennessee whiskeys:
George Dickel Whisky
George Dickel seems to be outshined by Jack Daniel's popularity. However, George Dickel deserves more attention from the market. It offers a satisfyingly smooth whiskey with a $10-$40 price range.
Heaven's Door Tennessee Bourbon
Did you know that Bob Dylan, a legendary musician started Heaven's Door? If not, it's probably because the little fun fact didn't work as a gimmick to catch the attention of many. However, Heaven's Door Tennessee Bourbon is still commendable with its dark and sweet flavors that satisfy whiskey drinkers. It's easily available with an average price of $50.
The Luxury of buying Jack Daniel's Single Barrel
You can avail of a whole whiskey barrel of choice from Jack Daniel's. However, it would cost you an approximately doubled price of one Old No. 7 barrel –that's about 250 bottles. The single barrel amounts a good $9,000-$12,000. Yes, the price fluctuates because no two barrels weigh exactly the same.
Purchasing a barrel from Jack Daniel's would leave you feeling prominent. Purchasers from the "By The Barrel" Program are invited to Lynchburg. They personally taste test the product and purchase a whiskey barrel of their choice. The buyer's name shall be engraved on a plaque, while those who buy more than 1 barrel are given a medallion. It was also reported that the US military were the leading buyers of Single Barrels.
Common Jack Daniel's Whiskey Recipes
Jack Daniel's alone is wholesome, but reinventing it could bring excellent results. Try your own blend using Jack Daniel's Tennessee Whiskeys. Here are some recipes you can start with:
Enlighten Mint Cocktail
Instructions:
In a jar, put the whiskey and 4 mint springs together.

Seal the jar and leave it in the fridge overnight.

Prepare 2 rock glasses with ice. Pour 2 ounces of the blend in each glass.

Next, fill the glass with ginger beer.

Lastly, top 1 spring mint each on each glass. Easy!
Lynchburg Lemonade
Instructions:
In a Collins glass filled with ice, pour the whiskey, lemon juice, and triple sec.

Next, add the soda. Stir well, and ready to serve.

Now, that's a soothing drink.
Apple Cider Honey Jack Martini
Instructions:
Pour the whiskey, lemon juice, and apple cider with a pinch of cinnamon into the shaker.

Add ice. Cap it and shake well.

Prep the martini glass lip with ground cinnamon and sugar.

Garnish with apple slices. Serve.

Enjoy your classy drink!