At a Glance:
The name "Ciroc" is a combination of the words "cime" and "roche."
Ciroc vodka is manufactured using ugni blanc and mauzac blanc grapes.
It is from a British-based multinational alcoholic beverage manufacturer, Diageo.
Introduction to Ciroc Vodka

What is Ciroc?
Ciroc Vodka is a high-end alcoholic beverage. Unlike traditional vodkas made from aged potatoes or grains, Ciroc vodka is made from distilling grapes. As a result, it has a more appealing scent than other brands and a distinct grape-like taste.
Ciroc is a brand of alcoholic beverage that manufactures premium quality vodka. Their vodkas are mainly made from high-quality French grapes that give their products distinct fruity taste and smell, unlike other vodka brands such as Belvedere and Grey Goose.
Who is The Owner of Ciroc?
Ciroc is produced and manufactured by Diageo, a multinational beverage manufacturer based in the United Kingdom. However, rapper P. Diddy also known as Sean Combs has secured a 50-50 share for the brand's profit. He also has veto power in deciding which stores can carry the vodka brand.
In 2007, P. Diddy made a marketing deal with Ciroc as it did not correctly do well in terms of sales internationally. P. Diddy then made several aggressive marketing strategies for Ciroc by including it in multiple popular music videos and bringing the brand to concerts. As a result, Ciroc became popular in the mainstream, and it became synonymous to "luxury" lifestyle.
How is Ciroc Vodka Manufactured?
Ciroc Vodka is made from premium French grapes, which are carefully selected. It undergoes five distillation processes in the hands of master distillers in the south of France at Distillerie de Maison Villevert-Chevanceaux.
Ciroc Vodka Prices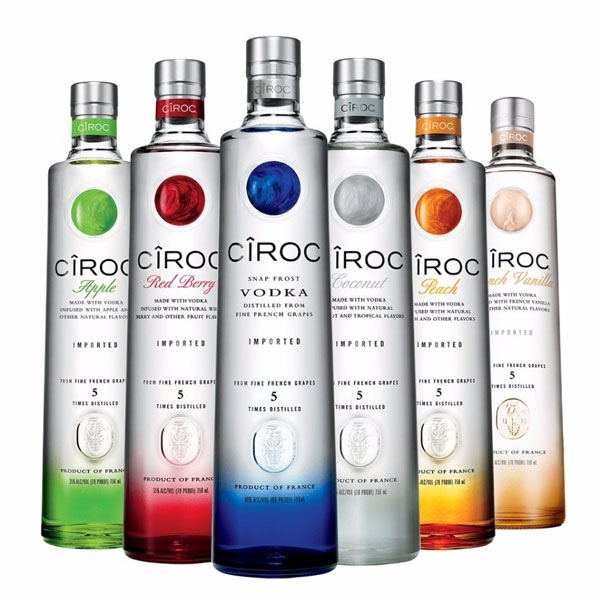 Since Ciroc Vodka is a high-end brand, expect to pay a premium price for it. Here's an estimated Ciroc price list to help give you a better idea of how much it truly costs:
Ciroc Ten Price
For those who truly want a piece of luxury, the Ciroc Vodka Ten might just be what you are looking for. It was created to commemorate the tenth anniversary of the Ciroc brand. A bottle of this vodka can cost around $250 for a 1-liter bottle.
It is best enjoyed during luxury celebrations as it is made from the first harvest grapes. The first harvest grapes have distinct crisp that is developed during its early aging, which allows it to clean flavor.
Ciroc Coconut Price
The coconut variant of Ciroc is one of its first flavor-infused varieties. It is infused with tropical flavors and coconut that gives it an elegant smooth taste. A 750 ml bottle of this flavor-infused Ciroc vodka can set you back around $29.99 to $37.99, depending on where you purchase it.
This variant has a fresh coconut scent that will make you feel like you are lounging around in the tropics. It is also considered delicious as it has a sweet and creamy coconut flavor with hints of tropical fruits.
Ciroc Red Berry Price
If you are a fan of berry flavors, the Ciroc Red Berry might be what you are looking for. At only around $29.99 to $37.99, you can enjoy a 750 ml bottle of vodka infused with natural flavors of berries such as strawberry and raspberry.
Furthermore, the Ciroc Red Berry has a scent similar to a bouquet of berries. It also has a deliciously sweet taste that will keep you wanting more.
Ciroc Amaretto Price
The Amaretto is one of Ciroc's most popular flavor-infused variants. It has an elegant and smooth taste from the vanilla and cherry-almond infusion. You can enjoy a 750 ml bottle of this beverage for around $29.99 to $37.99.
Ciroc Summer Colada Price
The Ciroc Summer Colada is infused with creamy coconut, juicy pineapple, and other natural flavors. It has a refreshing taste, and it can be an excellent beverage for cocktails. A 750 bottle of it will cost around $29.99 to $37.99.
Ciroc French Vanilla Price
A 750 ml bottle of the Ciroc French Vanilla will cost around $29.99 to $37.99. It has a distinct blend of vanilla sourced from Madagascar. You will love its creamy taste, whether you mix it in a cocktail or drink it as it is.
Ciroc Blue Stone Price
You can get the Ciroc Blue Stone between $29.99 to $37.99, depending on where you buy it. It is one of Ciroc's classic varieties that has some hint of citrus flavors.
Ciroc Price at Walmart
Ciroc Vodka bottles are relatively cheaper when bought in Wallmart. Most of their flavor-infused variants are sold at $29.99. They also offer several promotions from time to time, which can make the Ciroc price lower.
Fruit-Flavored Ciroc Prices
The fruit-flavor Ciroc variants are almost twice the price of cheaper fruit-flavored brands. However, they do have more fruity taste and scent, which makes them more desirable for many consumers. They also have a strong marketing strategy compared to other brands.
Here's an approximate price list for each fruit-flavored Ciroc variant:
Is Ciroc Vodka Gluten-Free?
Ciroc Vodka takes pride in its products being gluten-free. This means that the ingredients used in making their vodka are inherently gluten-free, and no ingredients containing gluten are included during manufacturing.
Common and Delicious Ciroc Vodka Recipe Mix
Ciroc Vodka can be delicious on its own, but it can also be a great ingredient for a cocktail mix to cater to various taste preferences. Here are some Ciroc Vodka recipes that you might enjoy:
Ciroc Colada
Taste summer with the Ciroc Colada that uses ingredients you can find in any household. Here are the steps on how to create it:
Instructions:
Put the simple syrup, lime juice, coconut water, and Ciroc pineapple in a shake with ice.

Shake the mixture then strain it into a highball glass with ice.

Top with soda water splash.

Use a lime wedge as garnish.

Ciroc Lola
The Ciroc Lola is made from the Ciroc Ultra Premium Vodka. Its crisp and smooth taste combined with complementing flavors will make this drink appealing to your taste buds.
Instructions:
Mix the Elderflower liqueur, pomegranate juice, and Ciroc Vodka in a shaker with ice.

Shake thoroughly, then strain and transfer to a chilled glass.


Splash with champagne.

Use orchid flowers as garnish.
Harlem Sour
The Harlem sour uses the Amaretto infused flavor vodka of Ciroc. Here's how to make it:
Instructions:
Put all the ingredients inside a shaker with ice.

Shake the mixture and strain into a glass with ice.


Use an orange wheel as a garnish.