At a Glance:
This article will briefly touch on the facts about Ketel One Vodka – its origin and distilling process.
It will focus on the most up-to-date prices and have a quick look at how the brand compares to others within its tier, particularly on the costs for each bottle.
At the end are a few cocktail mix suggestions that you can try if you decide to taste Ketel One Vodka (if you haven't yet).
Introduction to Ketel One Vodka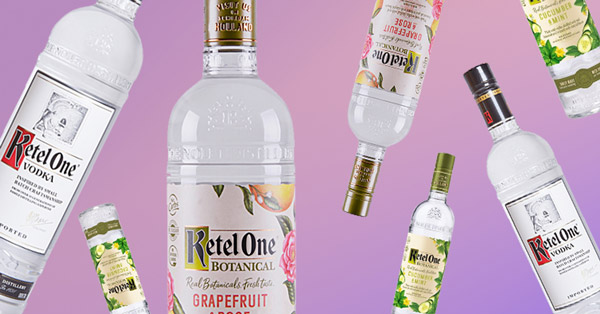 Ketel One Vodka is produced by Nolet Distillery in Holland, owned and run by the Nolet family since 1691. Ketel One is so named after distilleerketel number one, a Dutch word for the pot still used by the very first Nolet distiller more than 300 years ago. It is run today by the 11th generation distiller Bob Nolet.
Ketel One Vodka uses 100% high-grade European wheat and is considered gluten-free. The spirit is redistilled in traditional copper pot stills and filtered through charcoal. Before bottling, a master distiller from the family tastes the vodka to ensure each shipping is of premium quality. Each 750 ml bottle is 40% proof or has 80 ABV.
Ketel One Vodka Prices:

Ketel One has been popular with bartenders and cocktail mixers even before it was a commercial success. Many consider it premium vodka. Although there are a few brands that are, in my opinion, more preferable if you're willing to spend a few more bucks, Ketel One is a serious drink that would intrigue, if not please, a serious taster.
Ketel One Bottle Sizes & Prices List: How Much Is A Bottle of Ketel One?
Ketel One Botanical Grapefruit and Rose

Ketel One 325th Nolet Anniversary

Ketel One Botanical Cucumber and Mint

Ketel One Botanical Peach and Orange Blossom
The Price of Ketel One Versus Other Brands
Before it appeared in TV commercials in the US, Ketel One marketed itself among bartenders and vodka mixers. This strategy effectively made the brand among the staple choices when it comes to cocktail making.
Its competitive edge is in its premium quality and relative affordability. At Walmart, a 750ml bottle of Ketel One Vodka is at $20, which is a few dollars cheaper than, say Belvedere at $27 and Grey Goose at $25.
Ketel One Vodka belongs with the top-tier brands when it comes to quality, the only disadvantage it has is its limited flavor choices.
How Many Calories in Ketel One Vodka?
Once serving equivalent to 1.5 ounces of Ketel One Vodka contains 97 calories making it a light drink if you're drinking it on its own.
Mixing Ketel One with other cocktail ingredients will for sure add more calories. So for a diet-conscious, it's better to choose a mixer that is also low in caloric content.
Common Recipes: What Can You Mix with Ketel One Vodka?
Dutch Mule
Instructions:
Mix and shake the vodka, lime juice, and Angostura bitters with ice.

Transfer into an ice-filled glass.

Finish with ginger beer and a garnish of mint sprig and lime wedge.
Espresso Martini
Instructions:
Mix all the ingredients.

Mix all the ingredients.

Shake well with ice and strain into a chilled glass.
Conclusion
Ketel One Vodka is influenced by 3 centuries-old family distilling business, which has only been for the best. Combining the traditional techniques with modern approaches to distilling, the brand created a name for itself. You don't have to watch a TV commercial to tell you of its quality. Just ask around your bartender friends and let them tell you. Ketel One's spirit is considered among the cleanest and crispest there is.
This brand proves that you don't need to spend so much on premium quality vodka.