Quick Summary:
Sailor Jerry Rum is a spiced rum that was inspired by the methods used by seafarers to improve the taste of their rum rations from centuries ago.
Sailor Jerry Rum is priced competitively if compared with its rivals in the rum market such as Captain Morgan, Bacardi, and Kraken.
Sailor Jerry Rum is gluten-free, vegan-friendly, and contains 69 calories per 1-ounce serving.

Introduction to Sailor Jerry Rum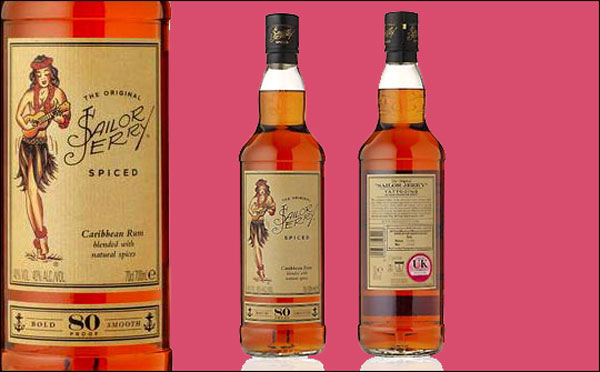 What is Sailor Jerry Rum?
Sailor Jerry Spiced Rum was directly inspired by the tradition of sailors to use spice on their rum rations. It is one of the traditional ways to make the drink more palatable.
Rum has a distinctive edge to it, and there are generally 2 ways to remove it: either have the rum get aged or to add spices into it. Given that aging is not an option when you are in the middle of the sea, adding spices is the way to go for sailors.
Sailor Jerry Rum was inspired by the Caribbean style of adding spice to rum. While the makers of Sailor Jerry won't fully disclose what spices they use, you can actually intercept the spiciness right away.
How did it acquire its name?
Sailor Jerry Spiced Rum got its name from a legendary tattoo artist by the name of Sailor Jerry (real name: Norman Keith Collins). As one of the most popular tattoo artists of his time, his signature artworks include pinup girls, pirate ships, and nautical stars.
Aside from the name itself, other hints of the inspiration of Sailor Jerry in the rum packaging include the addition of pinup girls in the label. The entire packaging of the rum is clean and simple, just like the ink works of the man that inspired the rum.
The makers of the rum would say themselves that the quality of their rum is inspired by the tattoo artist who was the namesake of their product. The precision of their rum is their own way of paying homage to the exacting craftsmanship of Sailor Jerry himself.
How does it taste?
The makers of Sailor Jerry would describe their rum as bold, smooth, and balanced. Based on the feedback from regular drinkers, this assessment is pretty much on-point.
The tasting notes of this product shows flavors of oak and vanilla, with hints of cloves and cinnamon. From the taste, you can note that there's some aging process used in the making of this rum.
The spices in the rum actually does not overpower the entire drink, allowing you to still have a good taste of the spirit itself. They make no efforts to hide it either, as it's one way to show that even without the flavors, the rum they use is of good quality.
Sailor Jerry Rum Prices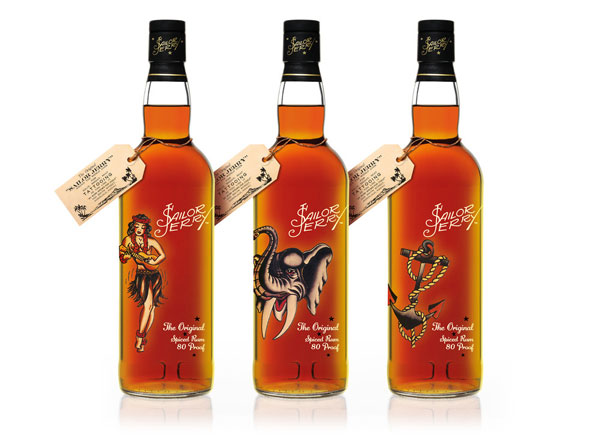 Sailor Jerry Rum prices compare favorably with most of its competition on the marketplace. Its retail price does not deviate too far from the products that it directly competes with.
There is only one variant of Sailor Jerry that is being sold on the market. As such, the differences of prices can only be seen depending on the size of the bottle.
There are 3 bottle sizes of Sailor Jerry Spiced Rum available on the market. These are 750ml, 1 liter, and 1.75 liters.
Sailor Jerry Rum Prices List
Sailor Jerry Rum Price Compared to Other Rum Prices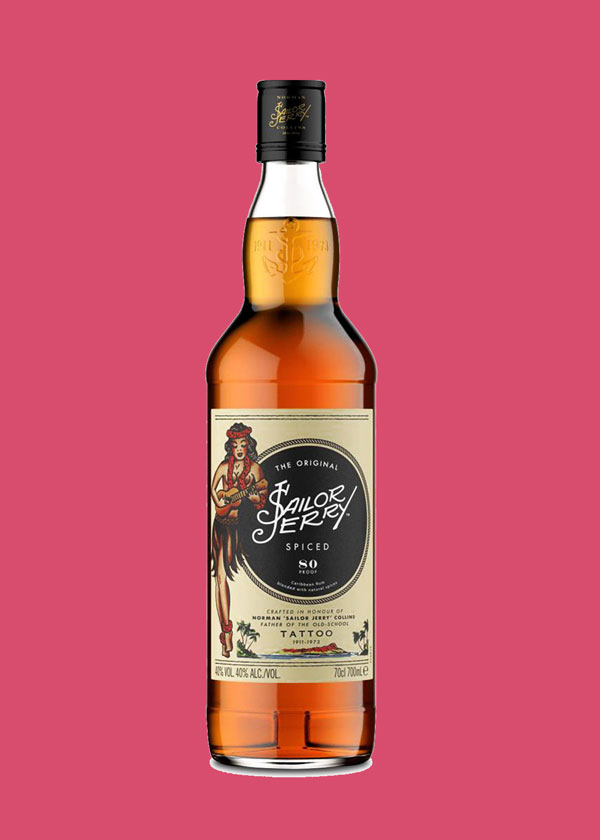 Bacardi is one of the more popular premium rums available on the market. In terms of prices, the regular Bacardi variant (ex.: Bacardi Superior) is comparatively close to the prices of Sailor Jerry.
For instance, a liter of Bacardi Superior is priced at the 20-dollar range, which is very close to the price of a liter of Sailor Jerry Rum.
It must be noted though that Bacardi can be found in multiple variants and flavors. The more expensive versions of Bacardi can be significantly more expensive to get than Sailor Jerry.
Kraken is a great matchup with Sailor Jerry as both rums are of the spiced variant. There is only a slight difference because Kraken is classified as a dark spiced rum.
In terms of prices, the difference between the two is not really that big, but Kraken is slightly more expensive. This is because a 1.75-liter bottle of Kraken can cost up to $30, while a similar bottle of Sailor Jerry is on the average priced at $27.
Experts would say that Kraken is a better option if you want your rum to have a richer, spicier flavor. However, Sailor Jerry is the better option if you want the overall taste to be a little milder.
Malibu Rum is another popular rival of Sailor Jerry in the flavored rum segment. Popular for both old-school and new-school crowds, it is commonly served in both bars and private functions.
Just like with Bacardi, it has a wide selection of flavors, mostly based on tropical fruits. Among the flavors in its catalogue include coconut, banana, lime, and passion fruit.
The prices of each bottle of Malibu Rum almost approximates that of Sailor Jerry Rum prices. They are priced at an average of $20-23 per liter, which is virtually equal to that of an equivalent bottle of Sailor Jerry.
Captain Morgan is one of the most popular brands of spiced rum out there. Due to this, many consider it as the perfect matchup for Sailor Jerry.
In terms of spiced rum prices, the average Sailor Jerry Rum price is higher compared to Captain Morgan with a similar bottle size. A 750ml Captain Morgan Spiced Rum bottle is priced at an average of $13-16, which is slightly lower compared to Sailor Jerry.
It must be noted that there are more variants of Captain Morgan available on the market. From pure to flavored rum, these variants are priced differently from each other.
Is Sailor Jerry Rum Gluten Free?
The short answer to this question is yes, Sailor Jerry Rum is gluten-free. It is also considered as vegan-friendly, so most people with dietary restrictions can satisfy their inner sailor and consume this rum without any worries.
Sailor Jerry Rum Calories
Most people who are watching their calories look to liquor as their alcoholic drink of choice. If you are looking to reduce your calorie intake, drinking Sailor Jerry Spiced Rum could be a great idea.
A 1-ounce (approx. 30 ml or 1 shot) serving of this rum has 69 calories. By its own, its calorie content is at par with other alcoholic products of the same proof.
Common Recipes: What to Mix with Sailor Jerry Rum?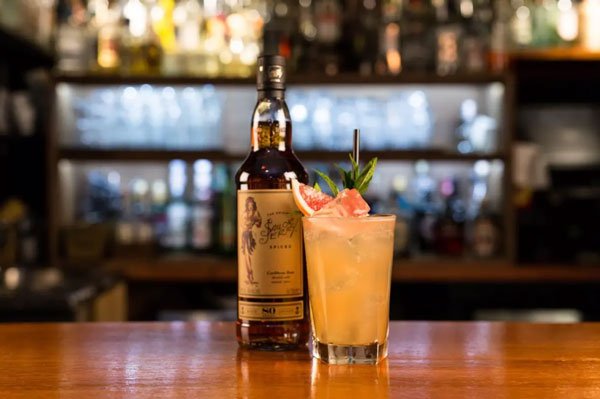 There are different mixes that go well with Sailor Jerry Rum. Here are some of the more popular ones and how you can prepare them at home.
Old Fashioned
Instructions:
Mix all ingredients in a mixing glass until sugar is fully dissolved, and drink is chilled.

Pour the mixture into the glass and serve with lemon garnish.
Third Wheel
Instructions:
Shake all ingredients together with ice then pour it in a glass with sugar rim.
Norman Collins Cocktail
Instructions:
Mix all ingredients together with ice until chilled, then pour into glass.

You can top it with club soda and garnish with lemon if desired.
Final Thoughts
When it comes to spiced rums, there is only a few out there that can compete with the quality of Sailor Jerry. Capturing the spirit of old-school spiced rums, it is a true classic.
Now that you know about Sailor Jerry Rum price, go to your local liquor store now and enjoy responsibly!