What do the difference Johnnie Walker Labels tell us about the quality of these products?
To answer this question straight: Johnnie Walker is a blended scotch whiskey, which means any of its variants is a blend of multiple whiskeys. That said, any assertion given as to the quality of different labels is, to say the least, subjective.  
Being a blended scotch whiskey also implies that JW lacks the attention to detail and the more robust flavor of a single malt whiskey.
Following is a summary of the difference of each variant.
Johnnie Walker – The Difference Between Colors
First off, the difference in colors suggests difference in age, with Red being the youngest and Blue the oldest. Black Label is 12 while the defunct Green is in its teens. Platinum Label is 18.
Moving on to the differences in flavors:
Johnnie Walker Red Label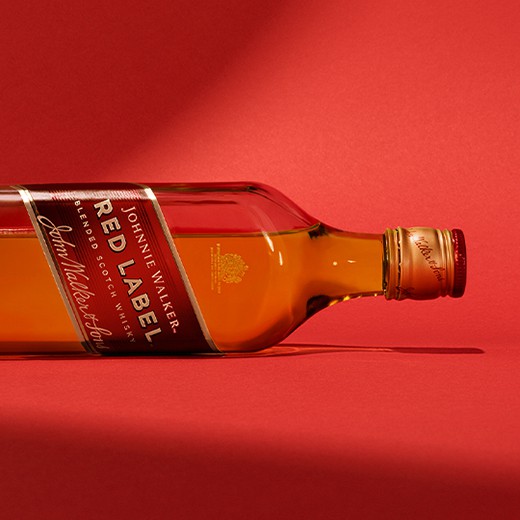 Red Label is the base level Johnnie Walker and is 80-proof. It is a blend of more or less 35 malt and grain whiskeys, and is intended for making mixed drinks. A concoction of light whiskeys from the West Coast and Scottish East Coast, this variant offers a robust smoke and a sweet-spicy flavor that culminates in a warm finish.
Johnnie Walker Black Label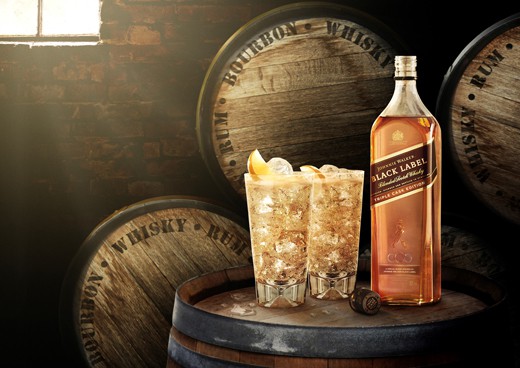 As far as economical blends go, Black Label is pretty pleasant, easy to drink and mixes well with soda water. It exhibits a rich-gold hue accompanied by complex and full-bodied fruity-spicy-smoky aromas, and hints of vanilla and peat. It runs smooth and warm on the palate and finishes with a sweet tang.
Johnnie Walker Double Black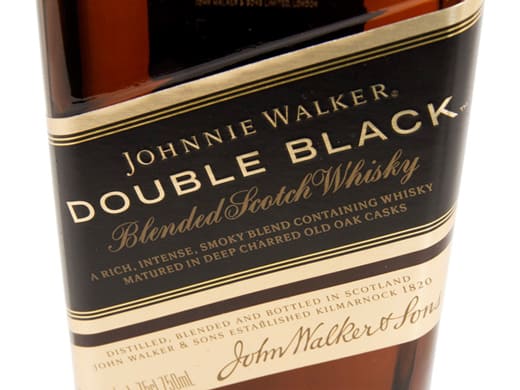 Originally launched for the travel retail market, the Double Black mixes the rich, malty zest of the original Black with heavily-charred whiskeys and casks.
The outcome is a toasty and smoky whiskey flavor combined with JW's usual malty core. One can say that the Double is Black but bolder, more lush, and more pulsating. The Black finds a grown-up version in the Double.
Johnnie Walker Gold Label Reserve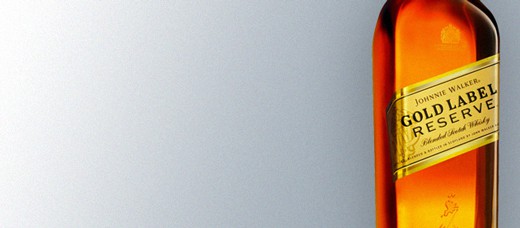 Gold Label Reserve is what you should pick from the line if you envision a night of indulgent celebration. Known for its creamy smoothness, this scotch is a wonderful salute to the harmonious amalgamation of different Highland and Speyside whiskeys.
The nose begins with delicate nectar and gentle smokiness that turns into honeyed tones before fading into a finish of smoke and oakiness.
Johnnie Walker Platinum Label 18-Year Old
The Platinum Label blends classic JW flavors with contemporary notes of fragrant almonds and citrus. It begins with a subtle nose that is malty, sweet and creamy, with notes of candied almonds. The finish is slow and soft, with lingering malt notes and pipe tobacco hints.
Johnnie Walker Blue Label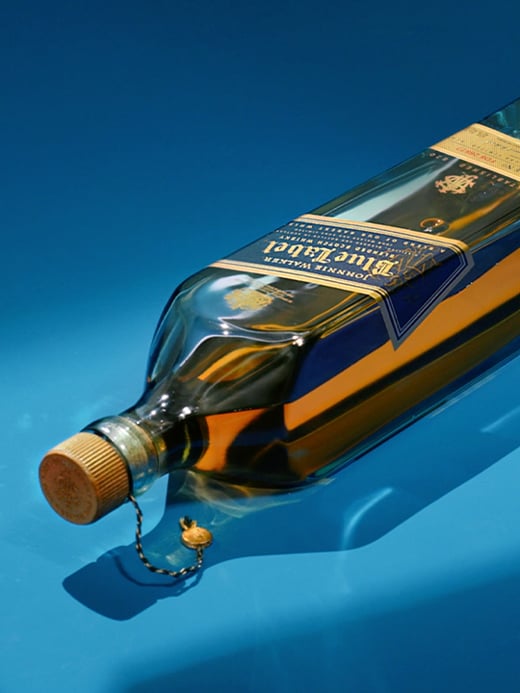 One of the most expensive in the array of these scotch blends, Blue Label comes with an aromatic nose soothed with notes of rose, tobacco and leather. Then it provides a thick and spicy taste all the way to an incredibly long and lingering smooth finish of soft smoke.
The idea for creating the Blue version is to recapture the character and taste of early whiskey blends created in the 19th century.
Johnnie Walker Green Label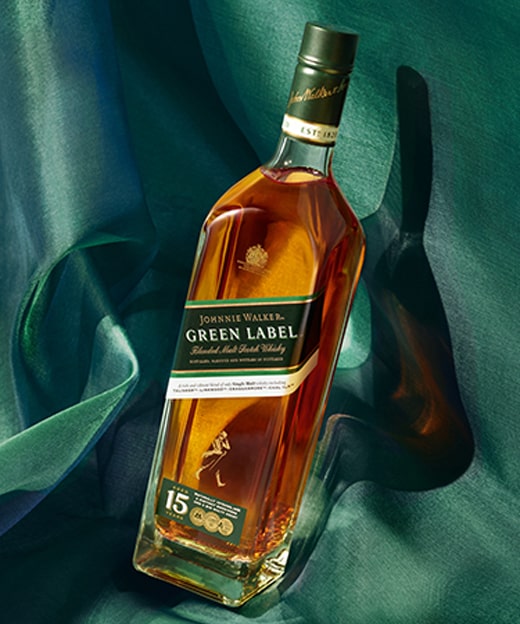 The Green is a unique addition to the line, since, unlike its brothers, it is a concoction of malt whiskeys only, whereas others include grain whiskeys as well. In particular, these whiskeys are barley-based, distilled in pot stills, matured in oak casks, and then mixed together.
The Green Label exudes notes of espresso coffee, mocchaccino, wood smoke, bitter chocolate and oak.
Johnnie Walker Island Green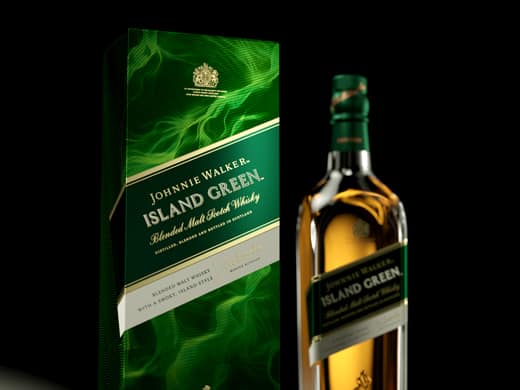 A dynamic re-interpretation of the Green Label, the Island Green Label starts in the nose with sweet vanilla and caramel with bitter coffee and dark chocolate notes. The palate comes with a huge note of oak wood and peat smoke, with hints of dried fruits and chocolate.
Johnnie Walker Explorers' Club Collection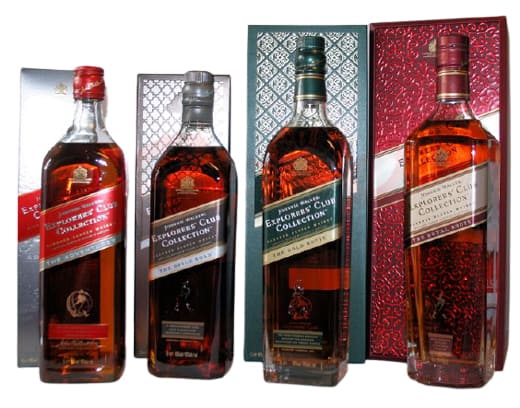 The Explorers' Club Collection is basically a special collection of four different JW expressions with the following set of variants:
Adventurer (sweet, fruity and smoky – smoke flavors balanced with a deep and resonant sweetness)
Gold Route (sweet, fruity, spicy and smoky – notes of ripe banana, mango, and sweet vanilla with accents of smoke and spice)
Spice Road (sweet, spicy and smoky – nice warm tingle on the palate)
Royal Route (sweet, fruity, spicy, savory and smoky – seaside toffees, apple notes, peanut brittle; woody spices at the palate background)
Each level comes with a slightly different sensory impact, and of course, a noticeable difference in price tags. You think that the master blenders at Johnnie Walker would like to convey a sense of progression with these blends' different levels of strength and flavors.
John Walker & Sons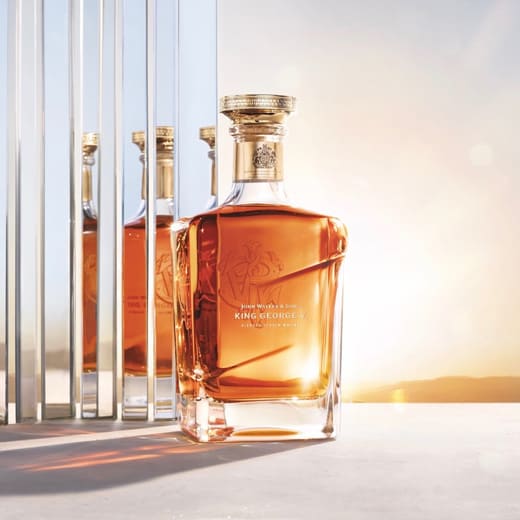 More variations come with this special collection of 7 blends:
XR 21 – Inspired by Sir Alexander's handwritten notes, this blend is an exclusive JW reserve of rare whiskeys, all of which have been aged for 21 full years.
King George V – This blend commemorates the special event of the granting of the Royal Warrant held in January 1934. The blend was created with the use of only the finest whiskeys made by distilleries during the king's reign.
Private Collection 2014 – An extensively sophisticated expression of the smokiness of the three most-celebrated whiskey regions of Scotland – bold Islay smoke, subtle Highland smoke, and maritime Island smoke.
Private Collection 2015 – This collection in contrast explores thefruit character that comes from the heart of Scotland – the light, exotic fruit of Speyside, the warm autumnal fruit of Highland, and the spicy fruit of West Highland.
Odyssey – Comes with an intermingling flavors that are hard to explore individually; nice and easy quaffable; perfect for people who prefer just to savor the collected and mixedflavor rather than explore each and every flavor included.
The John Walker – Bright citrus notes; rich fruit and sweet vanilla notes at the palate and a fruit and spice finish waltzing till the very end.
Diamond Jubilee – The Diamond Jubilee expression is described as "nose of light, clear fruit and a sweetness that deepens before dying"; fruity scents balanced spicy, creamy-sweet wood.
Johnnie Walker – The Limited Edition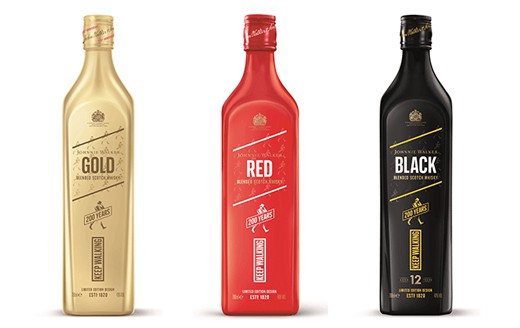 The perfect gifts for whiskey aficionados, the limited edition Johnnie Walker blends are available only for a short time. The collection comes with exclusive bottle designs and gift sets, and also boasts of limited release blends for extra-special occasions.
Some recent additions to the collection include: Red Label 200th Anniversary, Blue Label 200th Anniversary, Blue Label Year of the Ox and King George V Chinese New Year.
The Final Verdict
There we go. We have walked you around most, if not all, of the different Labels of Johnnie Walker available. Some of them are inspired by the need to explore the special character that can be offered by famous whiskey regions in Scotland, while others are inspired by great historical events. Still, some of the variants draw their origins from inspirations of capturing the blends that reigned in the past.
Whatever your taste inclination or your inspiration is, you have a specific bottle for you from the JW line. Remember, these are blended scotch whiskeys, so you need to have sensitivity to the aromas to fully enjoy them.
Go and get a bottle of your choice, and enjoy the party till the last drop!