Introduction to Smirnoff Vodka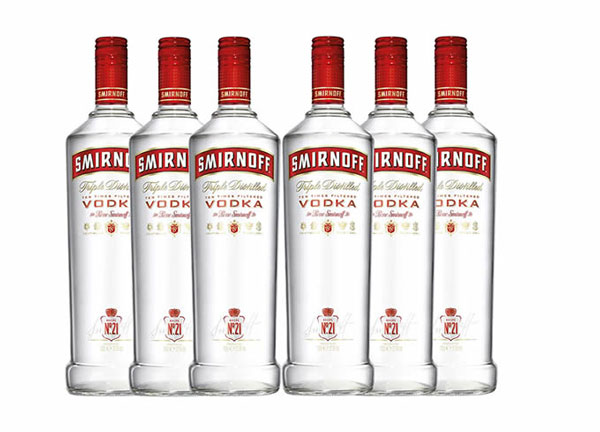 Smirnoff is a renowned vodka brand that has ventured around the world. It was first founded in 1864 in Russia. Unfortunate events steered its escape through Europe, then USA.
Smirnoff's over 150-year journey literally overcame life-and-death circumstances. What you're about to read in the next few minutes would include the history of Smirnoff, its current prices, and what the Smirnoff offered the world.
What is Smirnoff Vodka?
Smirnoff is the largest vodka brand in the United States. For 150 years, Smirnoff has innovated their blends and fashioned numerous selections including unflavored vodkas, fruity flavors, and malt beverages.
The presence of these selections revolutionized the spirit industry and club cultures. Their continuous conquest to create new vodka variants has inspired several spirit companies around the globe.
Smirnoff's dominance isn't all talk. Smirnoff delivers what is promised, unlike other brands that flourished mainly because of good marketing.
In 2005, New York times organized a taste test where 21 rivaling vodka brands were assessed. Out of all the entries, Smirnoff turned out to be an all-out favorite and was claimed as the default vodka for cocktail drinks.
The History of Smirnoff Vodka
Diageo, a dominating spirits company, currently owns Smirnoff. However, before Smirnoff settled with the company, the infamous vodka roots from a rich history dating back to 1864. It was founded by Pyotr Arsenievich Smirnov and was manufactured under PA Smirnov Distillery in Moscow, Russia.
Selling 4 million cases of vodka per year, Smirnoff found success in Russia. But, PA Smirnov was not your average businessman. He once dreamed of having czars drink his product, and later, it was realized. The Russian czars experienced his exquisite vodka.
However, things didn't go well when Russian leaders approved a law which made the place a dry county. Smirnoff production was banned in Russia since then.
In 1907, the Bolshevik Revolution occurred and ushered in difficult times for the Smirnov family. Fortunately, Vladimir Smirnov, PA's third son escaped the horrifying tortures and death sentences.
Carrying the Smirnov recipe, Vladimir fled to Europe and continued the spirit business built by his father. Smirnov was then changed to a French translation, "Smirnoff", to cater the product to Europeans.
In the 1930s, Vladimir's product touched the United States through a merchant named Rudolph Kunett. Kunett kicked a good start selling Smirnoff. But, when the business went bitter, he decided to sell his rights to the Hublein company.
John Martin, the Hublein president, had a rough start selling Smirnoff. It was troubling that Americans preferred whiskeys rather than the newly introduced spirit called vodka. To overcome the problem, Martin used whiskey corks on vodka bottles and marketed it as a white whiskey with "no taste, no smell". The strategy was effective and the Smirnoff sales consistently shot up as how we know it today.
Is Smirnoff Gluten-free?
Gluten is categorized as part of the protein family. It's found in grains such as barley, wheat, and rye. While gluten intake doesn't normally affect people, it would be harmful to those who are gluten intolerant or gluten sensitive. It could cause them ailments such as diarrhea, constipation, bloating, and stomach pains.
Fortunately, Smirnoff claims their vodkas are gluten-free. Except for Smirnoff Ice (made from malt), the rest of Smirnoff vodkas are made from corn which contains no gluten.
Smirnoff vodkas, such as Smirnoff Ice, contain a proof of 10, while the fruity and stronger variants range from 70-100 proof.
Smirnoff Vodka Prices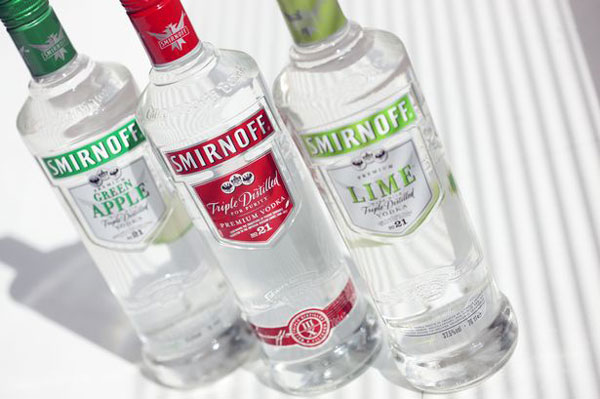 Smirnoff speaks quality in both texture and experience. Surprisingly, a 750ml bottle only amounts to $10-$15 –somewhere in the mid-range of vodka prices. Spirit drinkers widely hold Smirnoff as the leading vodka brand; however, its competitors should not be taken lightly.
Grey Goose is one of the popular challengers. The price of a 750ml Grey Goose averages to $25 nearly double of Smirnoff No.21's price. A reason why Grey Goose costs higher than Smirnoff is the distillation process. Smirnoff distills their renowned vodka thrice, whereas, Grey Goose prefers to do it 5 times to produce an excellent smoothness and clean taste.
Despite the extra procedure, Smirnoff wins over Grey Goose both in pricing and in taste. It became evident when Smirnoff was awarded gold during the San Francisco World Spirits in 2003, in 2008, two golds in 2009, in 2013, and the most recent, in 2020.
Absolut is another brand competing against Smirnoff. Its price ranges from $12-$20 for a 750ml bottle. While Smirnoff remains to be the crowd favorite, Absolut, with 80 proof, still proves to be a reputable spirit. Just like Smirnoff, Absolut brought home not one, but 2 gold awards from the San Francisco World Spirits in 2013.
To further guide you with the current Smirnoff Vodka Price, see the chart below:
Smirnoff Vodka Prices List
Mixed Drinks with Smirnoff Vodka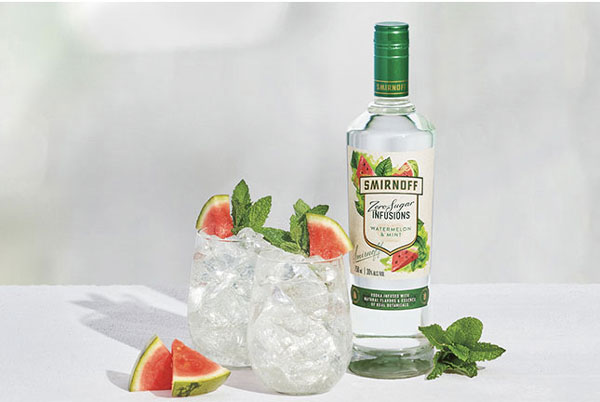 Many people say that Smirnoff can stand on its own. According to them, sometimes, adding more ingredients would just make it less flavorful or weaker. However, if done right, it can turn out as a more enjoyable beverage that resembles cocktails from clubs and bars. Here are some easy recipe suggestions using Smirnoff that you can try at home:
The Ocean Breeze Punch
Instructions:
In a large bowl, put the Smirnoff Vodka No. 21, Blue Curacao, and lemon juice together.

Stir it well.

Pour the mixture on a glass filled with ice.

Add a lemon twist for garnish. Serve.

Enjoy your ocean blue cocktail!
Strawberry Smirnoff Swirl
Instructions:
Put ice in a blender to produce crushed ice.

Next, add the vodka and strawberries.

Blend well.

Pour the mixture in a martini glass.

Enjoy your Strawberry Smirnoff Swirl!
Smirnoff No. 21 and Champagne Sparkle
Instructions:
In a large bowl, combine the vodka, champagne, juice, and simple syrup.

Add ice and stir well.

Pour the drink in a glass.

Mix in a lemon wedge to taste. Serve.

Now, you can drink your Champagne Sparkle!
Final Thoughts
Smirnoff is indeed the leading vodka brand in the United States. Every bottle upholds satisfaction for its drinkers and its price rightfully meets the standards. If you haven't had one, you better try and add it to your "bucket" list.