Introduction to Crystal Head Vodka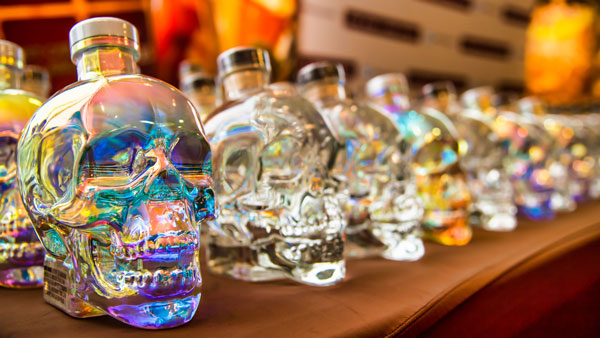 Aside from the renowned Crown Royal Whisky, Canada once again leaves a mark in the spirits industry through a brand called Crystal Head Vodka. People's opinions were divided about this vodka. If you're curious why the following lines would definitely answer the question. In this post, we will disperse Crystal Head's history, their processes, and the prices.
What is Crystal Head Vodka?
Crystal Head Vodka is a Canadian spirit conceived by the Canadian actor, Dan Aykroyd and American artist, John Alexander in 2007. Bottled in a crystal-clear skull, Crystal Head vodka is uniquely appealing and noticeable.
Why a Skull for Bottling?
John Alexander is the architect of Crystal Head's skull trademark. It was made from Milan glass and was manufactured by Bruni Glass Manufacturing. With such complexity for a vodka bottle, where did Alexander get the idea? According to Crystal Head, the inspiration of the design came from The Thirteen Crystal Skulls, a known legend from the Native American tribes such as Mayans and Aztecs.
The bottle is generally distinguished as a skull. Metalheads and Goths would probably love such a concept. However, Alexander interprets it differently. He prefers to call it a head, rather than a skull, because that's how he visualized the vessel when he was designing it.
In the said American legend, the crystal skulls symbolize enlightenment and positive energy. Matching its symbolism, Alexander and Aykroyd select such design as the perfect vessel to carry the pure and clean Canadian spirit.
Are there Crystal Head Vodka Variants?
Are there any variants under Crystal Head? The answer is no. Aykroyd prefers to preserve the purity of their spirit –no additives, no glycerol, and no sugar. Nonetheless, it's still remarkable with a vanilla sweet, peachy, and peppery taste at the end. The clean and pure distinction makes it highly favored for cocktail mixes.
Crystal Head vodka is distilled from "peaches and cream" sweet corn, mixed with Newfoundland fresh glacial waters. Good news, it's gluten-free.
Why is Crystal Head Vodka so Expensive?
With a price range of $50-$70, Crystal Head vodka price rests on the upper range. But, why is it so expensive? It's probably because of these 3 reasons:
Crystal Head Vodka prides itself to be a clean and pure spirit with no additive added. Still, it has achieved a formidable taste that caught spirit drinkers' attention. Not to mention the spirit was distilled 4 times and filtrated 3 times through Herkimer Diamonds. Honestly, Herkimer diamonds aren't real diamonds, but quartz. Nevertheless, these are rare and mostly found in Herkimer County mines in New York.
The craftsmanship of Crystal Head bottles
The bottle design and manufacturing took 2 years to accomplish. The astounding craftsmanship is enough to explain Crystal Head's price point. Aside from the clear glass, they also introduced the famed Aurora bottles. To produce Aurora bottles, crystal clear vessels were electrically charged with powdered metals. Using this process, no two bottles are produced alike.
It might be a coincidence that the development of Crystal Head Vodka happened simultaneously with the launching of the movie Indiana Jones and the Kingdom of the Crystal Head. Before the launch, Aykroyd met with the film director, Stephen Spielberg. They came up with the idea of serving Crystal Head Vodka during Indiana Jones's premiere.
Also, with such luxurious processes, Crystal Head isn't your regular booze and it appears to target the middle to upper market.
The New Crystal Head Vodka Pride
According to Aykroyd, the Crystal Head had been long in support of the LGBTQ+ Community. In 2020, Crystal Head released the new Crystal Head Vodka Pride. Beautifully designed with a glamorous rainbow palette, the support surely resonates with the LGBTQ+ community.
Crystal Head Vodka Prices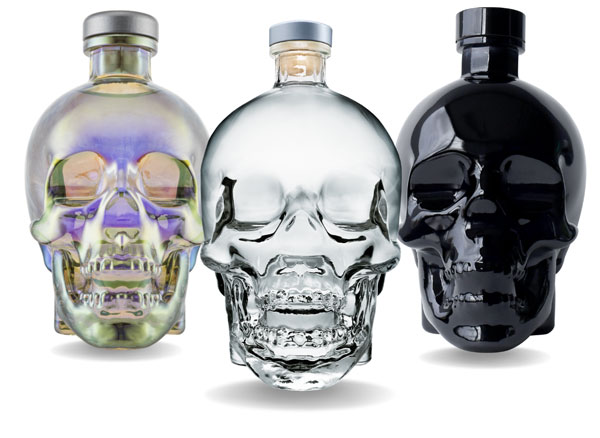 Crystal Head vodka is undeniably more expensive compared to other popular premium vodka brands. One example is Grey Goose vodka. Ranging with a price of $26.99-$43.99, Grey Goose doesn't touch even the lowest price point of a 750ml Crystal Head (about $49.99).
Belvedere vodka, another highly recommended brand, ranges its price at about $27.99-$39.99 for 750ml. A bottle of Crystal Head could have been traded with nearly 2 and a half bottles of Belvedere. That absolutely shows a gap.
Crystal Head's nature is such a luxury for spirits drinkers. However, the prices are understandable. As was mentioned above, Crystal Head is not ordinary alcohol to booze out. What it offers is a masterpiece in the form of vodka.
Crystal Head Vodka only produces one flavor of their renowned spirit. Therefore, their prices fluctuate among bottle designs such as the Crystal Head, the Aurora, and the Pride.
To further guide you with Crystal Head vodka prices in 2020, check out the chart below.
Crystal Head Vodka Prices List
Crystal Head Vodka Original

Crystal Head Vodka Pride Limited Edition

Crystal Head Vodka w/ Shaker

Crystal Head Vodka w/ Flask

Crystal Head Vodka Rolling Stones Edition

Crystal Head Vodka Aurora
Filtration with Herkimer Diamonds Makes a Difference
The filtration process significantly affects the vodka's taste and texture. Oftentimes, vodka filtrations are done through activated charcoals. However, this isn't the case for Crystal Head. According to their press release, their spirit runs through a 7-time filtration process, "three of which are through over 10,000 Herkimer Diamonds."
Herkimer Diamonds used for filtration doesn't only shout lavishness, but it also grounds to a spiritual significance. These diamonds are used for physical, emotional, and spiritual healing. These characteristics make Crystal head vodka holistic to the existential spirit experience they're aiming for.
Other Vodkas and their Filtration Process
Grey Goose is a popular spirit. It's made from rye grain mash and is distilled 4 times. Unlike other vodkas, this product doesn't undergo any filtration process. The spirit carries a rich caramel taste arising from the rawness of the ingredients. The average price for a 750ml-size Grey Goose is $35.99.
If using Herkimer Diamonds is already shocking, then the filtration process of Square One Organics could be another surprise. This vodka uses pure glacial waters from Iceland and uses lava rocks for filtration. The lava rocks capture impurities and leave only the best drop of the spirit. The average price for a 750ml-size Square One Organics is $33.99.
Common Mixed Drinks Recipes with Crystal Head Vodka
Cold Comfort
Instructions:
In a shaker filled with ice, gather the Crystal Head Vodka, rum, and apple cider.

Cap it and shake well.

Pour the drink into a rock glass.

Add cinnamon and apple slice for garnish.

Cold Comfort as a comfort drink!
Crystal & Cran
Instructions:
Fill the rock glass with ice.

Gather the Crystal Head Vodka, cranberry juice, and soda in the glass.

Stir well.

Spear a lemon peel using a martini pick for garnish.

Enjoy your cranberry cocktail!
Head Mojo
Instructions:
Rub the glass lip with lime and dip it into sugar.

Put fresh mint sprigs, coarse sugar (to taste), and lime wheels into the glass and muddle.

Add ice and Crystal Head Vodka.

Stir well.

Lastly, add soda.

Put fresh mint sprig and lime wheels to garnish. Enjoy!
Final Thoughts
The exquisite flavor and well-crafted projection of clean and pure spirit revere Crystal Head as a high-end spirit. It's indisputably lavish despite promoting only a single flavor. However, there's a never-ending possibility that one day, Crystal Head would reinvent their variants, ultimately changing the focus of their product innovation.