When you start bringing out the alcohol, that's when you know that the party's about to ramp up. A common question is people wondering how many mL is in a shot.
No one wants to bring math to a fun party, but it can be essential to find out, mainly when you're serving alcohol without any shot glasses.
What Is A Shot Glass?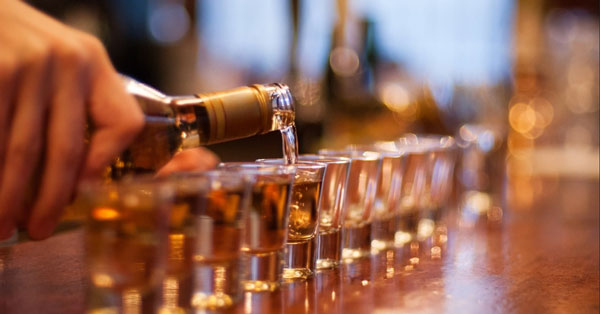 You'll often hear the term shot glass when you visit a bar, or even at a simple party. A shot glass is what is usually used to pour alcohol into and can be drunk in one gulp.
Shot glasses are made with a thick glass bottom so they don't break easily when they're slammed on a table. Hotels and distilleries often use them as marketing tools and merchandise.
This is due to shot glasses being generally considered good collectibles. You'll find people will often bring them as souvenirs or gifts and have them on display in their houses.
How Many Ml Is In A Shot Glass?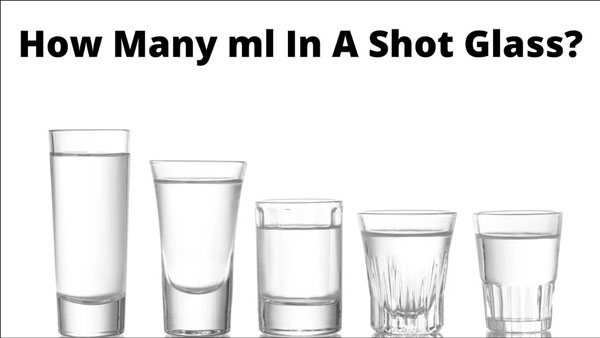 The National Institute of Health revealed that one shot of alcohol in the US is equal to 44mL, which is the standard drink size in most parts of the United States.
There is no international set standard measure for a volume of a shot glass, which is why you will notice that shot sizes will vary depending on the country
How Many ML Is A Shot of Alcohol or Liquor?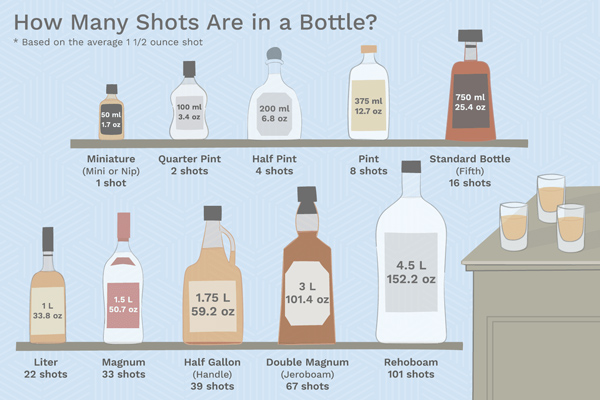 As mentioned before, the maximum amount of liquor that can be served in a shot glass in the US is around 44mL. But it can also differ from country to country.
For example, India has a 30mL set measurement while Italy has a 60ml maximum amount per shot glass.
A shot of Vodka
A shot of Vodka in the US is generally around 37-44mL or 1.25 to 1.5 US fl oz. However, in Utah the standard size of a Vodka shot is 30mL or 1 US fl oz.
A shot of Whiskey
One shot of hard liquor like whiskey measures around 44mL in the US. But in the UK, it's typically around 25mL. In Northern Ireland and Scotland, one shot of whiskey is equal to 35mL.
A shot of Tequila
Tequila shots also measure around 44mL per shot glass. Fun fact: one tequila bottle can hold up to 700mL of tequila. So based on that information, you can estimate how many tequila shots you can get from one bottle.
A shot of Rum
Typically, a shot of Rum measures around 43mL per shot glass.
A shot of Gin
The UK Weights and Measures Act of 1985 defines that a shot of gin must be around 25 or 35mL. But in the US, it follows the standard 44mL measurement.
Measurement of ML Per Bottle Size
When you're planning to host a party and serve alcohol to your guests, knowing how many shots there are per bottle can help you stock well for your party.
Here are the different types of bottle sizes as well as how many shots they contain.
Miniature (50mL bottle) – 1 shot
Quarter Pint (100mL bottle) – 2 shots
Half Pint (200mL bottle) –4 shots
Pint (375mL bottle) –8 shots
Standard Size (750mL bottle) –16 shots
Liter (1L bottle) –22 shots
Magnum (1.5L bottle) – 33 shots
Half Gallon (1.75L bottle) – 39 shots
Double-magnum (3L bottle) – 67 shots
Rehoboam (4.5L bottle) – 101 shots
Two Types of Shots
The standard measurement of shots in the US also depends on whether it's a single pour or a double pour.
Single Pour/Single Shot: 44mL
Double Pour/Double Shot:59-89mL
Measuring A Shot in ML (DIY Measuring Steps)
There are many ways you can measure a shot without using a shot glass. Here are four common methods that people use.

The four-count method
The idea of this method is pretty simple and direct. While pouring, count up to 4 in your head. Each count should represent half a shot.

You can practice it by pouring water into a glass while counting up to 4. Then, bring out a measuring cup to see if you poured the accurate amount.

Spoon measuring
This method is arguably easier than the previous one. Just refer to the standard shot measurements and bring out your measuring spoons to measure a single or double shot.

Fun fact: 3 tablespoons is equivalent to a single shot while one shot is equal to nine teaspoons.
Measuring medicine cups
Other than spoons, one thing you probably have stocked in your house somewhere is medicine cups. And, conveniently enough, it closely resembles a shot glass which makes it a perfect replacement for measurement.

Medicine cups also have measuring lines etched into them which makes things easier for you. Just keep in mind that a 44mL single shot is equivalent to a 1.5 oz shot from a medicine cup.
Water displacement
This one might be more labor-intensive and time-consuming than the previous methods listed but it can still be a lot of fun. You only need to measure the amount of liquid displaced by 1.5 oz of solid material and virtually anything can be your shot glass.
First, find a small-sized container and fill it with about two inches of water. Then, use a marker to mark the top of the water's level.
Find an object that can displace 1.5 oz in the water. Five quarters and three nickels are usually what's recommended. Then, once the object or objects have been submerged, mark the new top level of the water.
Throw out the objects as well as the water. Then, fill it with the alcohol of your choice until you've reached the top line.
Then, pour out the liquid until it reaches the first line that you marked. That's it, you just poured a shot.
Comparison Chart
As stated before, with no international standard set, the standard size for drinks ends up varying from country to country. Here is a more comprehensive chart to show you all the different shot measurements per country.
Single Pour Measurements
Final Verdict
Maybe math isn't fun to bring to a party but being familiar with how much mL is in a shot can definitely help, especially when you're doing all the pouring and serving of alcohol. You also have to consider the type of shot you're pouring and the state you're in as it can vary by country.
You'll definitely mess up a few times and get the measurements wrong but if you practice it enough times, you'll soon be serving delicious cocktails and pouring drinks like an expert.
---
FAQs:
1. How Many Ml is in a Shot Glass?
The standard US measurement is 44mL or 1.5 oz but there's no international standard established so it can change depending on the country.
2. Is a Shot 50ml?
In the US, no. But in countries like Russia, one shot is equivalent to 50mL.
3. Is 50ml One or Two Shots?
Most countries would consider 50mL to be only one shot but in countries such as the United Kingdom or South Africa, 50mL would be equivalent to two shots.
4. How Much is a Single Shot?
The United States has 44mL as the standard size of a single shot.
5. How Many Ml is a Vodka Shot?
The US has set the standard size for hard liquor such as vodka to be around 44mL.