Quick Summary:
Today I will be featuring D'Ussé – the freshest brand to enter the Cognac market. Here's a glance at what I am about to discuss:
D'Ussé is a brand that has been operating for 9 years now.
Famous rapper Jay-z endorsed and collaborated to produce this one-of-a-kind cognac.
D'Ussé makes sure to produce top-notch quality cognac.
D'Ussé is a cognac that goes well with mixed drinks.
Introduction to D'Ussé Cognac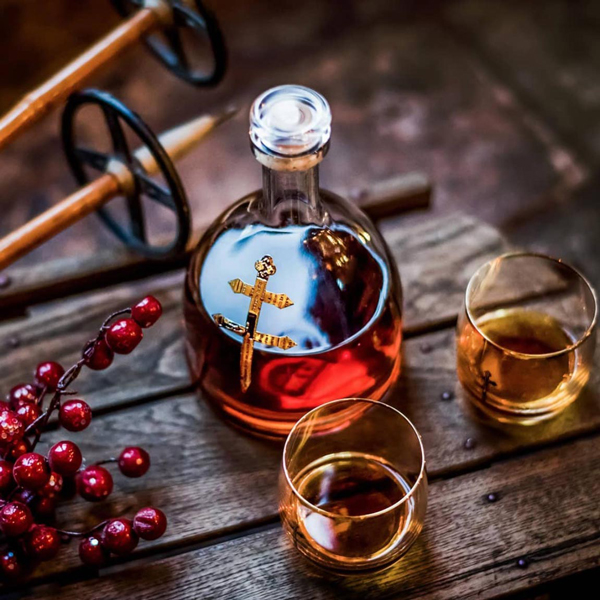 D'Ussé in French means smooth, outstanding balance.
Founded in 2012, D'Ussé (pronounced as "dew-say") Cognac is owned by Bacardi, one of the substantial privately-owned spirits companies. It is drafted at the historical Château de Cognac in France. It is curated by Michel Cassavecchia, the most sophisticated Cellar Master among all the cognac houses for more than two decades. The double-barred cross on the D'Ussé bottle is a French symbol called Le Croix de Lorraine (The Cross of Lorraine) It signifies French patriotism during World War II. It epitomizes perseverance, courage, and honor.
D'Ussé's target market is the younger generation. They aimed for a spirit that can be taken neat, and will also be a stand-out base for mixed drinks. – Thus, the endorsement from rapper Jay-Z, who is also a part-owner of the company.
Cognac is an 80 proof, French brandy aged in oak casks for at least two years. The white grapes used have to come from the approved growing regions. They go through distillation twice and must be produced only from the Cognac area of France.
D'Ussé Cognac Prices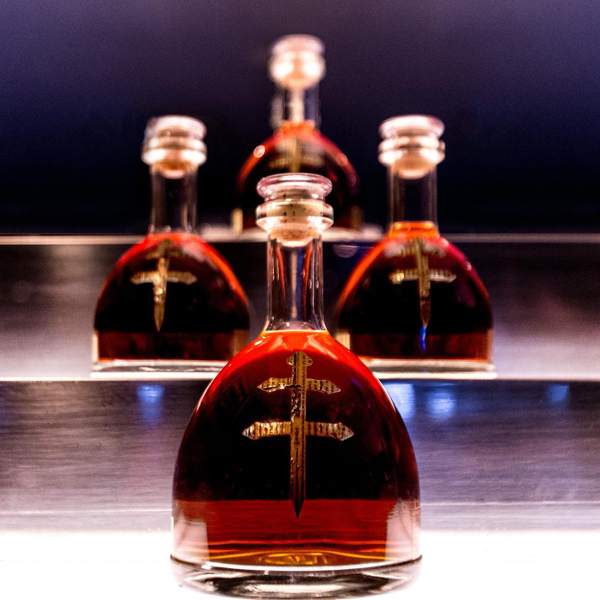 The average price of a bottle of D'Ussé is $49.99. Some stores give discounts if you buy them per case or box. In a store in Washington, you can get a case of 6 750ml bottles for $329.99, while a case of 12 bottles of the same size typically ranges from $649.99 to $839.38 at Bestbuyliqours.com. I haven't seen a store that sells the D'Ussé XO bottle per case, needless to say, it's going to be a lot of money.
March of this year, D'Ussé made headlines as it sold a limited edition bottle at an auction in Sotheby's for a jaw-dropping $52,500. Proceeds of the auction all went to the Shawn Carter Foundation. Rapper Jay-Z and his mom Gloria founded this charity in 2003. They are helping out American students thru scholarship programs and more.
The 750ml D'Ussé VSOP bottle ranges from $46.99 to $49.99. In New York, prices can go as high as $57.99. The 375ml VSOP bottle on the other hand ranges from $19.95 to $25.99. And the rare 200ml VSOP bottle price ranges from $15.99 to $24.95 in some stores in San Diego. The stunning XO black bottle is pricier starting at $149.99 in a store in New Jersey to a whopping $332.954 in a liquor store in Lewes. All these prices are exclusive of sales tax and delivery fee.
D'Ussé Cognac Prices List
Here is a breakdown of the prices, sizes, and other details:
Prices Compared to Other Cognac / Brandy Brands
| | | | | |
| --- | --- | --- | --- | --- |
| | | | | Hints of caramel, dried fruits and honey, notes of floral, cinnamon, and butterscotch. Long spice finish. |
| | | | | Hints of cloves and vanilla; notes of oak, licorice, raisins, and dried figs. Medium salty, spicy finish. |
| | | | | Hints of cardamom, cinnamon, vanilla, and lime; notes of caramelized dried peaches, vanilla, walnuts, and hazelnuts. Medium-long spicy finish. |
| | | | | Hints of jasmine, vanilla, floral, and peaches; notes of toasted almond, light spice, oak, peach, and soft caramel. Medium length finish. |
| | | | | Hints of cinnamon, apricot, clove, and apple; notes of candied fruits, honey, classic oak, and vanilla. Medium length finish, light spice, and soft caramel. |
A quick look shows that the price of D'Ussé is close to that of the Big Four Cognac Houses. Although considerably new in the Cognac business, D'Ussé embodies history and respects tradition by partnering with a bonafide Cellar Master and well-known cognac house in France. However, would you agree if I say that D'Ussé's rustic medieval bottle will stand out among those other four bottles on a rack? Empty VSOP bottles are even sold on eBay and Amazon.
Common Recipes: What To Mix With D'Ussé Cognac?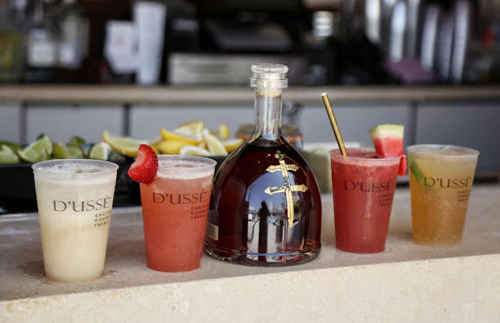 This perfect thirst quencher is "Jay-Z Approved". A sweet and citrusy cocktail to brighten up your summer days.
D'ussé Watermelon Spritz
Instructions:
Conclusion
Established just shy of 10 years ago, many would say that D'Ussé still lacks experience in the Cognac business. D'Ussé makes up for the "lack of experience" by its commitment to producing only top-notch cognac and it doesn't disappoint. I'd say Jay-Z has made the right judgment in partnering with Bacardi on this one. Find out personally what I am raving on about here and check D'Ussé in your area hassle-free thru Drizly today. You're welcome!
---
FAQs: (Frequently Asked Questions on D'Ussé Cognac)
1) How much is a case of D'Ussé?
A 6 bottle case of D'Ussé is around 249.99 while a 12 bottle case is $649.99.
2) How much is D'Ussé at Binny's?
Binny's price for D'Ussé VSOP is $49.99.
3) How much is a personal bottle of D'Ussé?
A personal bottle (200ml) of D'Ussé is $15.
4) How much does a fifth of D'Ussé cost?
A fifth (750ml) of D'Ussé is around $49.99.
5) What is the biggest bottle of D'Ussé?
D'Ussé's largest bottle size is 750ml.